Our 13th wedding anniversary happened to fall on Labor Day this year, so we celebrated the whole weekend long! The grand finale was a homemade gourmet Italian dinner on Monday that we enjoyed under our grape arbor. 🙂 Dining under the vines made it feel a little like being in Tuscan wine country. Rob even added some little lights above the table, and we lit tea lights all around the yard for the occasion. So pretty!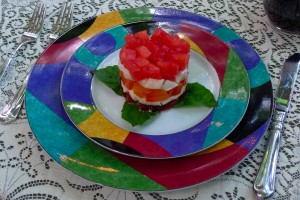 We made one special main dish, and a couple simple dishes surrounding it. We started with a simple Caprese salad that I made a little fancier by showcasing the different colored heirloom tomatoes in a tower with a food ring. We ended with a simple Earl Grey tea affogato, rather than the traditional coffee version. It tied this celebration back to the afternoon tea we had earlier in the weekend, and the bergamot orange that flavors Earl Grey tea is actually from Italy, which was very fitting! 🙂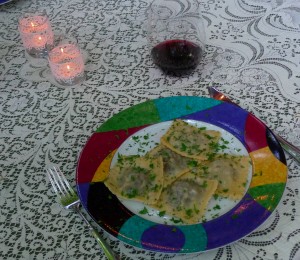 For the main course, we made homemade portobello mushroom ravioli. I think that fresh pasta is much easier to make with a partner, so it is a perfect project to do together on an anniversary. 🙂 We also celebrated our engagement anniversary with a ravioli dish (on Valentine's Day), so making ravioli again tied the two special anniversaries together.  Plus we had a portobello mushroom dish for dinner at our wedding reception at Columbia Winery, so that flavor brought us back to the reason for this celebration! (Have you noticed I like to find several layers of meaning in everything I cook for special occasions? 🙂 I think it makes it more fun and special!)
Portobello Mushroom Ravioli
Dough based on a recipe from Sur La Table cooking classes
Filling based on a recipe from ChasingSomeBlueSky.com
For the Fresh Pasta Dough:
Yield: 4 servings
2 1/2 cups (12 ounces) all-purpose flour or "00″ flour, plus more for dusting
1 tablespoon kosher salt
4 large eggs
1 tablespoon extra-virgin olive oil (optional)
Place flour and salt in a large mixing bowl and whisk to combine. Make a "well" in the center of the flour mixture and add eggs and oil, if using. Using your fingers, blend the eggs into the flour mixture, stirring the flour in from the sides of the well and working outwards. When the pasta dough is thoroughly mixed, turn it out on a lightly floured work surface. Knead dough until it is smooth and flexible but not sticky, about 5 to 10 minutes, adding small amounts of flour as needed. Gather the dough into a ball and flatten into a disk. Cover in plastic wrap and allow dough to rest for at least 10 minutes and up to 1 hour at room temperature.
To roll dough, secure a pasta machine to the edge of a long countertop. Using a bench scraper, cut dough into thirds. Keep extra dough covered in plastic while working with one piece. Flatten the piece of dough into a rough square that will fit inside the width of the pasta machine. Place the rollers on the widest setting and roll the dough through the machine, catching it with one hand as you roll with the other. Take the dough and fold into thirds towards the center of the dough. Turn the dough so one open end faces the machine and roll it through on the widest setting again. Fold, turn, and roll once more on the widest setting. Continue rolling the pasta through machine without folding, adjusting the rollers to the next smallest setting each time, until the desired thickness is reached. If the pasta sheet becomes too large to handle, use a bench scraper to cut it into more manageable lengths and continue rolling until pasta is less than 1/16-inch thick.
(This whole process can also be done with a rolling pin. It takes some muscle, but it works really well).
For the Ravioli Filling:
1 tablespoon olive oil
18 oz portobello mushrooms, finely chopped
1 garlic clove, minced
1/4 cup dry red wine
1/2 cup part skim ricotta
1/4 cup grated Parmesan
Salt and pepper to taste
For the Sauce:
2 tablespoons Earth Balance
Splash of white wine
Flat leaf parsley, for serving
Freshly grated Parmesan, for serving
Preheat a large non-stick pan over medium heat. Add the olive oil, and when it is shimmering, add the garlic. Cook until fragrant, about 30 seconds. Then add the chopped mushrooms, and salt and pepper lightly. Cook until the liquid from the mushrooms is mostly evaporated. Add the wine, and continue to cook until most of the wine has evaporated. Place the mixture into a large bowl. Mix in the ricotta and Parmesan, and season to taste.
Bring a large pot of water to a boil. When it is boiling, add a good amount of salt to season the cooking liquid.
To make the ravioli, take two pieces of uncut pasta dough. Place 1 teaspoon dollops of the mushroom mixture along one piece of the dough, with at least an inch and a half between them. With a pastry brush or your finger, brush water on the pasta around the mushrooms. Carefully place the second sheet of pasta dough over the top, taking care to press it around each teaspoon of mushroom filling to try to avoid any air bubbles. Cut around the raviolis with a ravioli cutter, cookie cutter, or a pizza cutter. Take care to keep enough flour on the outside of the ravioli so they don't stick together before cooking.
Cook the ravioli in the boiling water until they float to the top, about 2-3 minutes.
I used a simple sauce for this dish by tossing the cooked raviolis in about 2 tablespoons of melted Earth Balance mixed with a splash of white wine in a sauté pan, and then serving the ravioli with freshly grated Parmesan and flat leaf parsley on top.
(For a little video of how to fill ravioli, here is one that is a short and sweet. 🙂 Much easier to understand than my explanation, I think. ;-))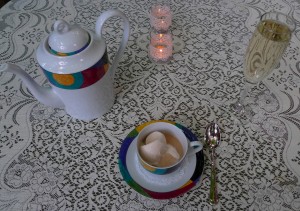 We paired our meal with a special bottle of 2000 Peninsula red wine from Columbia Winery. We bought a case of the 2000 awhile back when it was still available, and we've been opening only one bottle a year for our wedding anniversary. It is aging really nicely! Hopefully that's a good sign for our marriage, as well! 😉 We definitely savored this bottle.
http://nooncafe.com/wp-content/uploads/2015/07/NoonCafe-Logo-with-full-shadow.21.png
0
0
Laura
http://nooncafe.com/wp-content/uploads/2015/07/NoonCafe-Logo-with-full-shadow.21.png
Laura
2013-09-04 20:14:48
2015-07-16 20:53:59
Wedding Anniversary ~ Portobello Mushroom Ravioli