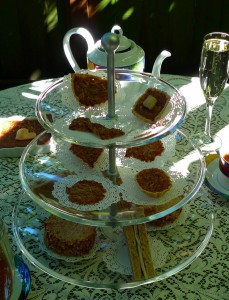 Our 13th wedding anniversary falls on Labor Day this year, so we are celebrating the whole holiday weekend! The traditional gift for the 13th year is lace, which led me to think about lacy afternoon teas. So, first stop, England! Virtually at least. 😉 I made a couple of little tea sandwiches and a couple of little desserts for the start and finish of our meal. I decided to add a more substantial main course in the middle for my sweetie, though. 🙂 I found a really interesting recipe from a British Pub called The Wellington Arms for a tea smoked salmon. I have to say, I was really intrigued, but also a little nervous that it might involve a few fire trucks. 😉 But I'm happy to report, no fire alarms or fire trucks, and it is one of the most exciting recipes I've tried in a while! Now I would like to smoke more things! Vegetables, eggs, cheese, chicken…The possibilities are endless. The types of tea to try are also plentiful. I used Earl Grey to stay with the British theme, but I'm excited to try different kinds for different flavors. I hope you'll give this technique a go sometime. I think you'll like it. 🙂
Tea Smoked Salmon
Based on a recipe from The Wellington Arms
Serves 2
For the fish:
2 fillets fresh wild salmon, about 6 oz each
Decaffeinated Earl Grey tea from 8 tea bags (approximately)
½ cup white rice (approximately)
1 tablespoon sugar (approximately)
Canola oil, or other high heat oil
Salt and pepper to taste
For the sauce:
2 tablespoons Earth Balance
1 teaspoon capers, rinsed
Squeeze of lemon juice
Salt and pepper to taste
Preheat oven to 350
Line an old pan that you are not very fond of with 2 layers of heavy duty tin foil, making sure there is plenty of extra overhanging to wrap around your lid. Form it to the bottom of the pan. Sprinkle the tea, rice and sugar in the bottom of the pan and combine.
Place a cake rack in the pan, and oil it with a high heat oil, such as canola. Place the fish skin-side down on top of the rack. Cover the pan with a lid. (It doesn't need to fit tightly. I found that glass was nice because I could see my progress without removing the lid.) Wrap the excess tin foil up and around the lid to make sure there is a tight seal. This will keep almost all of the smoke inside of the pan. Put the pan on the stove and heat on high until smoking. Cook for about 8 minutes until the salmon is well infused with the smoke flavor. The top of the salmon will become a little dark. Remove the lid outside to avoid smoking your kitchen.
If you have thin fillets, they may be cooked through at this point. If they are still undercooked, place them in the preheated oven until they are done to your liking.
In the meantime, place the Earth Balance and capers in a saucepan and melt over medium heat. When they are melted and warm, add a squeeze of lemon juice and combine.
Serve the salmon with a spoonful of sauce over the top.
I found a few videos that helped me visualize how to do this technique before I tried it. One that is similar to the way I did it (only with wood chips instead of tea and without the lid) can be found here.
The small dishes we had with our afternoon tea were also lovely, and worth a try. I will keep these recipes in my collection. 🙂 We had chicken salad tea sandwiches with smoked almonds and smoked turkey tea sandwiches with arugula mayonnaise. I just replaced the regular mayonnaise in both of them with the reduced fat variety and I used a tender whole wheat bread instead of white, but I followed the recipes otherwise.
For dessert I made mini apple treacle tarts. Now I want to watch an episode of Downton Abbey! 😉 I wonder if they were as good as Mrs. Patmore's? I actually substituted the butter completely with Earth Balance, and it worked beautifully. I just baked them for much less time than the big tart called for. I also made coconut oatmeal lace cookies. Again, I completely substituted the butter with Earth Balance, and they were delicious!
Next stop, Italy! We are planning to make ravioli and an Italian meal for our anniversary day. 🙂 Stay tuned….
http://nooncafe.com/wp-content/uploads/2015/07/NoonCafe-Logo-with-full-shadow.21.png
0
0
Laura
http://nooncafe.com/wp-content/uploads/2015/07/NoonCafe-Logo-with-full-shadow.21.png
Laura
2013-09-02 14:27:33
2015-07-16 20:54:59
Afternoon Anniversary Tea ~ Earl Grey Tea Smoked Salmon