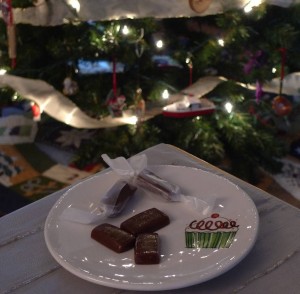 I typically don't make treats quite as rich as these, but a small bite is all you need to feel like you've had a decadent treat. Share them with friends and family since they travel well, or leave them by the tree for Santa. He might like them even better than cookies. 😉
I have never made caramels from scratch on my own before, so I followed the recipe from Martha Stewart to the letter. Candy making is really a science, and a few degrees can be the difference between a success and a dud. I learned two important lessons through this experience. The first is to make sure your thermometer is calibrated. I learned this the hard way, as my first attempt was a mess that did not set since it did not boil to the proper temperature. The second lesson I learned is that you can rescue your caramel if it doesn't set by re-boiling it! On my second boil, I used a different thermometer, and the temperature reached the accurate level. Ta da! Success! 🙂
Gingerbread Caramels
From MarthaStewart.com
4 cups (2 pints) heavy cream
2 cups light corn syrup
4 cups granulated sugar
12 tablespoons (1 1/2 sticks) unsalted butter, cut into small pieces
1/2 cup unsulfured molasses
1 teaspoon pure vanilla extract
3/4 teaspoon salt
1 teaspoon ground cinnamon
3/4 teaspoon ground ginger
3/4 teaspoon freshly grated nutmeg
1/4 teaspoon ground cloves
Vegetable-oil cooking spray
Lightly coat a 12-by-17-inch rimmed baking
sheet with cooking spray. Line with parchment
paper, leaving a 2-inch overhang on short
sides; spray paper.
In a large pot over high heat, bring cream,
corn syrup, sugar, butter, and molasses to a boil,
stirring until sugar has dissolved. Continue to
cook over medium-high heat, stirring frequently,
until mixture reaches 248 degrees (firm-ball stage)
on a candy thermometer, about 20 minutes.
Remove from heat, and stir in vanilla, salt, and spices. Immediately pour onto prepared sheet, without scraping pot. Let stand, uncovered, 24 hours at room temperature (do not move pan).
Generously coat a large cutting board with cooking spray. Lifting it by the parchment overhang, invert caramel onto the cutting board; use a sharp knife to loosen parchment, and remove. Cut into 1-by-1 1/4-inch pieces. Wrap each in cellophane or waxed paper. Caramels can be stored up to 1 month in airtight containers.
http://nooncafe.com/wp-content/uploads/2015/07/NoonCafe-Logo-with-full-shadow.21.png
0
0
Laura
http://nooncafe.com/wp-content/uploads/2015/07/NoonCafe-Logo-with-full-shadow.21.png
Laura
2014-12-10 21:00:21
2015-07-15 14:15:06
A Decadent Holiday Treat ~ Gingerbread Caramels