July not only has a big celebration for Canada on the 1st and the USA on the 4th, but France's Bastille Day falls on the 14th. For a belated celebration, I made French madeleines. They are so elegant, but also very easy to make!
I tried a little experiment with this dish, since it is traditionally made with butter (as most French dishes are…Ha!) I made half the recipe the traditional way, with butter. I figured they are tiny little cakes; so a little butter in moderation is fine. I made the other half of the recipe with Earth Balance. I baked them in the same oven for the same amount of time, and observed the difference. I have to say, they were *both* quite delicious. There was not a bad madeleine in the bunch. 😉 The taste is slightly different, but both lovely. The butter version looked more beautifully golden brown, and spread out in the pan a little more. The Earth Balance cakes were a tad lighter in color, less golden. They also were slightly smaller cakes, since they didn't spread out in the pan quite as much. The photo at the bottom displays the difference…The ones on the left are made with Earth Balance, and the ones on the right are made with butter. Your choice!
I used a tried-and-true recipe from Bon Appétit magazine.
Madeleines
Based on a recipe from Bon Appétit magazine
2 large eggs
2/3 cup sugar
1 teaspoon vanilla extract
1/2 teaspoon grated lemon peel
Pinch of salt
1 cup all purpose flour
10 tablespoons (1 1/4 sticks) unsalted butter, melted, cooled slightly (or Earth Balance buttery sticks)
Powdered sugar, optional, for serving
Preheat oven to 375°F. Generously butter and flour pan for large madeleines (about 3 x 1 1/4 inches).* Using electric mixer, beat eggs and 2/3 cup sugar in large bowl just to blend. Beat in vanilla, lemon peel and salt. Add flour; beat just until blended. Gradually add cooled melted butter in steady stream, beating just until blended.
Spoon 1 tablespoon batter into each indentation in pan. Bake until puffed and brown, about 16 minutes. Cool 5 minutes. Gently remove from pan. Repeat process, buttering and flouring pan before each batch. (Can be made 1 day ahead.)
Dust cookies with powdered sugar if desired.
*A metal mold with scallop-shaped indentations, sold at cookware stores.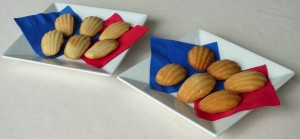 http://nooncafe.com/wp-content/uploads/2015/07/NoonCafe-Logo-with-full-shadow.21.png
0
0
Laura
http://nooncafe.com/wp-content/uploads/2015/07/NoonCafe-Logo-with-full-shadow.21.png
Laura
2014-07-21 18:41:00
2015-09-26 19:19:18
Bastille Day Celebration ~ Madeleines