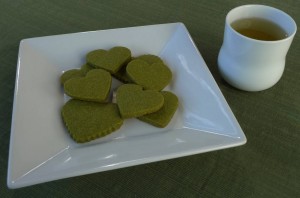 Happy White Day!
Last month, as I was looking through recipes for our Japanese Valentine's Day dinner, I also looked at how people in Japan celebrate Valentine's Day. Through that research, I stumbled upon a Japanese holiday called White Day. I learned that in Japan, women typically give men chocolates on Valentine's Day rather than the other way around, as we usually do in the States. White Day is exactly one month after Valentine's Day, and it is a chance for the men to give back. I thought it was such an interesting and cool tradition, so I wanted to mark it in some way. Here's a Japanese-inspired cookie recipe for the guys out there! 😉
I used Martha Stewart's recipe for Green Tea Shortbread. I substituted all of the butter with Earth Balance, which worked beautifully. We really didn't miss the butter. I also omitted the salt, since Earth Balance already has a little salt incorporated into the product.
Green Tea Shortbread
Based on a recipe from Martha Stewart
2 cups all-purpose flour, plus more for rolling
2 tablespoons green-tea powder (matcha)
1/2 pound Earth Balance, room temperature
1/2 cup granulated sugar
Sift flour and tea powder into a small bowl; set aside. Place Earth Balance in the bowl of an electric mixer fitted with the paddle attachment. Cream on medium speed, 3 to 5 minutes. Add sugar; continue to beat until very light in color, about 2 minutes more. Add flour mixture; combine on low, scraping sides of bowl with a spatula if necessary, until flour is just incorporated and dough sticks together when squeezed with fingers.
Place a piece of parchment on a clean surface; dust with flour. Roll dough to 1/4-inch thickness; chill in refrigerator or freezer until firm, about 30 minutes.
Preheat oven to 325 degrees. Line two baking sheets with parchment. Cut chilled dough with 2-inch leaf cutters. Using a wide spatula, transfer to baking sheets. Chill until firm. Gather scraps together, re-roll, chill, and cut shapes. Bake until firm and barely starting to color, 15 to 20 minutes, rotating halfway through. Cool completely on wire rack; store in an airtight container for up to 3 to 4 weeks.
PS. Since these cookies are a vibrant green color, they could also be good for St. Patrick's Day! Just cut them into shamrock shapes. 🙂
http://nooncafe.com/wp-content/uploads/2015/07/NoonCafe-Logo-with-full-shadow.21.png
0
0
Laura
http://nooncafe.com/wp-content/uploads/2015/07/NoonCafe-Logo-with-full-shadow.21.png
Laura
2014-03-14 16:21:56
2015-07-15 21:45:05
Happy White Day ~ Green Tea Shortbread