The main course for our wedding anniversary dinner was something new to our kitchen…Duck! We have had duck out in restaurants, but I've never tried making it at home before. I changed the original recipe from Domaine Chandon quite a bit to replace the turnip puree with a celeriac and potato puree. We love that flavor combination. Plus, I omitted the heavy cream and butter by using these vegetables with a naturally creamy texture. I also omitted the canola oil, since the duck breasts have enough fat in the skin to sauté them in a dry pan. Lastly, I used Earth Balance instead of butter when called for.
Duck Breasts with Celeriac Root Potato Purée and Caramelized Carrots
2 medium Yukon gold potatoes
3 medium celeriac roots (about the same total size as the potatoes)
Earth Balance to taste (I used about 2 tablespoons in the potato mixture and about 1 tablespoon for the carrots)
Skim Milk to taste
Salt and freshly ground pepper
2 large carrots, peeled and cut into thin rounds
2 boneless duck breasts
Peel and chop the potatoes and celeriac roots into approximately 2 inch pieces to speed up the cooking time. In a large pot, boil enough water to cover the potatoes and celeriac. Boil until everything is very tender. Drain the water, and place the potatoes and celeriac into a food processor. Pulse the mixture while adding a little skim milk until it is smooth. (Be careful not to over mix, however, since potatoes can get goopy if over mixed.) Add a little Earth Balance, salt and pepper to taste, and pulse the mixture until everything is well incorporated.
In a small frying pan, melt about 1 tablespoon of Earth Balance over medium low heat. Add the carrots and sauté until tender and golden brown. Season with salt to taste.
Trim away any excess fat on the duck breasts. Score the skin in a crosshatch pattern using a chef's knife to allow the fat to render. Salt and pepper on both sides.
Preheat a large frying pan over medium heat. Place the breasts skin-side down and cook until the skin is crispy, about 6 to 8 minutes. Pour off and discard the rendered fat from the pan as you go. Turn the breasts, and cook until medium-rare. (Adjust the heat to a lower temperature if they begin to get a little too brown before they are cooked.) Transfer the breasts to a carving board and let rest for 5 minutes before carving. Cut into thin slices crosswise. We also carved away most of the skin for a leaner cut.
To serve, place a bed of the potato mixture in the middle of each plate. Fan several thin slices of the duck meat over the bed, and sprinkle the carrots on the other side. Serve immediately.
Serves 2 with leftovers.
We paired our dinner with a California wine called Steele 2008 Cabernet Sauvignon. The traditional anniversary gift for the 11th wedding anniversary is made of steel, so I thought it was a fitting choice! 🙂 We thought it was very delicious…Fruit forward but full bodied, which is our favorite style.
Rob also picked up a French Marsannay Rosé by Domaine Charles Audoin as a part of his gift to me. It was recommended to him by our local wine store when he asked for something to pair well with duck. Duck is fairly rich tasting meat, and the rose was light and crisp. Perfect combination :).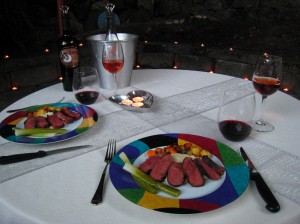 http://nooncafe.com/wp-content/uploads/2015/07/NoonCafe-Logo-with-full-shadow.21.png
0
0
Laura
http://nooncafe.com/wp-content/uploads/2015/07/NoonCafe-Logo-with-full-shadow.21.png
Laura
2011-09-06 14:38:21
2015-07-21 14:48:38
Wedding Anniversary, Part 3 ~ Duck Breasts with Celeriac Root Potato Purée and Caramelized Carrots