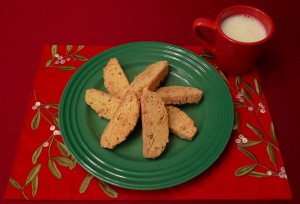 Santa needs to have some cookies on Christmas Eve, so I baked up a batch of my favorite pine nut biscotti for him ;).  This recipe makes me think of Christmas since the creamy nuts are another part of the Christmas tree! I think it's a fun but sophisticated version of a Christmas cookie. I've made these cookies for several years now, and they've become a favorite at our house. They also ship well if you'd like to send them to loved ones far away. They are naturally low in fat since there is no added oil or butter, so they are a good choice in lieu of some of the decadent Christmas goodies of the season. I hope you enjoy them as much as we do! And don't forget to save a few for Santa ;).
Pine Nut Biscotti
3 cups all-purpose flour (about 13 1/2 ounces)
1 cup sugar
1 teaspoon baking powder
1/2 teaspoon salt
1/2 teaspoon baking soda
1/2 cup pine nuts, toasted
1/4 cup plus 2 tablespoons water
1 teaspoon grated lemon rind
1 teaspoon vanilla extract
3 large eggs
Preheat oven to 325°.
Lightly spoon flour into dry measuring cups; level with a knife. Combine flour, sugar, baking powder, salt, and baking soda in a large bowl, stirring with a whisk. Stir in pine nuts. Combine 1/4 cup plus 2 tablespoons water, rind, vanilla, and eggs, stirring with a whisk. Add egg mixture to flour mixture, stirring until well blended (dough will be dry and crumbly). Knead dough lightly in bowl 7 or 8 times or until a dough forms (dough will be sticky).
Divide dough in half. Shape each portion into an 8-inch-long roll. Place rolls 6 inches apart on a baking sheet lined with parchment paper; flatten each roll to 1-inch thickness.
Bake at 325° for 30 minutes. Remove rolls from baking sheet (do not turn oven off); cool 10 minutes on a wire rack.
Cut each roll diagonally into 15 (1/2-inch-thick) slices using a serrated knife. Place slices, cut sides down, on baking sheet.
Bake at 325° for 15 minutes. Turn cookies over, and bake an additional 10 minutes (cookies will be slightly soft in center but will harden as they cool).
Remove from baking sheet; cool completely on wire racks.
Yield:  2 1/2 dozen (serving size: 1 biscotto)
http://nooncafe.com/wp-content/uploads/2015/07/NoonCafe-Logo-with-full-shadow.21.png
0
0
Laura
http://nooncafe.com/wp-content/uploads/2015/07/NoonCafe-Logo-with-full-shadow.21.png
Laura
2012-12-05 21:30:04
2015-07-19 12:40:22
Christmas Cookies ~ Pine Nut Biscotti