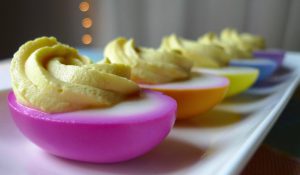 Happy Easter!
My mom makes pickled eggs with beets for Easter, just the way my grandma used to do. I think it's an old Pennsylvania Dutch tradition that made its way into our family traditions! I decided to expand on that tradition this year by dying my eggs pink, but also yellow, orange, blue, and purple. Amazingly, all of the colors are totally natural! I was really delighted with all of the bright colors. 🙂
After I dyed the eggs, I made them into deviled eggs. Use your favorite deviled egg recipe. I like to use Greek yogurt in mine, so they had a bit of a tang between the pickling and the filling. They will be a perfect Easter afternoon snack (if they make it that long! 😉 )
Pickled Rainbow Deviled Eggs
If you make all 5 colors, you will end up with 15 whole eggs or 30 deviled egg halves
Inspired by Food52
For the pickled eggs:
3/4 cup white wine vinegar
3/4 cup water
1/2 teaspoon kosher salt
3 hard-boiled eggs, peeled
(Each coloring below is for 1 batch of the basic pickling blend above. To make all 5 colors, make the basic pickling blend in 5 separate batches.)
For pink:
1 small beet, roasted and peeled, cut into large pieces
For yellow:
1/2 tablespoon ground dried turmeric
For orange:
1/2 tablespoon ground dried turmeric
1 small piece (the equivalent of approximately 1 1/2 tablespoons) of roasted and peeled beet
For blue:
1/4 small red cabbage, thinly sliced
1 1/2 teaspoons baking soda
For purple:
1/4 small red cabbage, thinly sliced
1 1/8 teaspoons baking soda
Set aside 5 glass containers that are each big enough for 3 eggs and one colored batch of the pickling mixture. Divide the eggs evenly so every container has 3.
In a small saucepan, bring one batch of vinegar, water, and salt to a simmer. Whisk to make sure the salt fully dissolves. Turn off the heat and add the coloring of your choice.
Pour the colored pickling blend over the top of 3 eggs, and make sure they are fully submerged. Repeat with the remaining 4 colors.
Refrigerate until the eggs are the color you desire. I left mine in the pickling blend for a few hours, stirring every once in awhile to make sure they colored evenly. They will also get more pickled with time. (I found that the pink, orange, and yellow took less time to reach the color I desired than the blue and purple. I left the eggs in the pickling blend longer for the latter two.)
For the deviled eggs:
Prepared pickled eggs
5 ounces nonfat plain Greek yogurt
2 teaspoons Dijon mustard
2 tablespoons mayonnaise
Salt to taste
Cut each egg in half and remove the yolks.
In a medium bowl, mash the yolks with a fork. Add the yogurt, mustard, mayonnaise, and salt, and mix until the filling is well incorporated and smooth.
Scoop the filling into a piping bag fitted with a star tip. Pipe the filling into each egg white.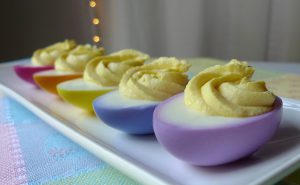 http://nooncafe.com/wp-content/uploads/2015/07/NoonCafe-Logo-with-full-shadow.21.png
0
0
Laura
http://nooncafe.com/wp-content/uploads/2015/07/NoonCafe-Logo-with-full-shadow.21.png
Laura
2017-04-14 21:12:29
2017-04-17 00:03:54
Easter Eggs ~ Pickled Rainbow Deviled Eggs