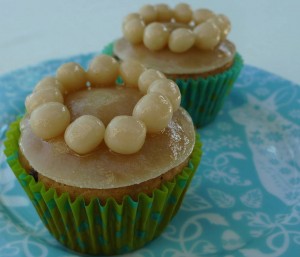 Happy Easter!
To celebrate the holiday this year, I made a batch of simnel cupcakes. 🙂
Simnel cake is a British confection eaten around Easter time. It is a type of fruit cake with some warm holiday spices mixed in, but I think the most interesting part about this dish is the decoration. These cakes are decorated with a ring of 11 small balls of marzipan symbolizing 11 Apostles, with the exception of Judas. I love dishes such as this one that combine culture, history, and deliciousness! 😉
I only decorated a few of the cupcakes, and I froze the rest of them without any decoration to keep them fresh for later. (By the way, microwave one frozen cupcake for 30 seconds, and it tastes like it came right out of the oven. I like to eat them plain as a snack.) I ended up using one small 150 gram package of marzipan because I only decorated a few of the cakes. This amount will be enough to decorate about 8 cupcakes, depending on how thin you roll it. If you would like to decorate the whole batch, you will probably need three packages to be on the safe side. Marzipan keeps well in the refrigerator for later if you don't use all of it. I also only used about ¼ cup of apricot jam. Again, if you plan to decorate all of your cupcakes, you will probably need more.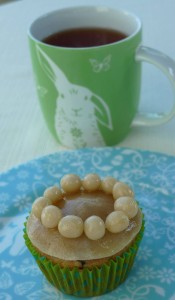 Simnel Cupcakes
Makes 20
¾ cup light olive oil
½ cup plain nonfat yogurt
6 tablespoons skim milk
½ cup fine or caster sugar
3 eggs
2 ¼ cups whole wheat pastry flour
3 teaspoons baking powder
Pinch of salt
1 ¼ teaspoons mixed spice or pumpkin pie spice
½ teaspoon freshly grated nutmeg
1 ½ cups mixed dry fruit (finely chopped apricots, currants, etc.)
Marzipan (one 150 g package will cover and decorate about 8 cupcakes)
Powdered sugar, for dusting work surface
Apricot jam (¼ cup will be enough for about 8 cupcakes)
Preheat oven to 350. Line 2 cupcake tins with 20 paper liners.
Combine oil, yogurt, milk, sugar, and eggs in a medium bowl. Whisk to combine. In a separate large bowl, whisk together the flour, baking powder, salt, and spices. Add the wet ingredients to the dry, and stir until just combined. Add the fruit, and mix until evenly distributed.
Fill each baking cup about ½ full. Bake for about 25 minutes, or until a toothpick inserted comes out clean.
In the meantime heat jam until it is more viscous, and sieve it through a fine mesh strainer. Reserve the smooth portion of the jam, and discard the solids.
On a clean and smooth surface, sprinkle some powdered sugar to keep the marzipan from sticking. Roll out the marzipan with a rolling pin until it is very thin. Cut out rounds with a round cookie cutter that is approximately the size of the top of a cupcake. With remaining bits of marzipan, make small, evenly sized balls.
When the cupcakes are cooked and cooled, brush a small amount of the jam over the top of each one that you would like to decorate. Place a round of marzipan over the jam, and press gently to adhere to the cake. Lightly brush the top of the marzipan with jam, and also lightly coat 11 little balls with jam. Stick the balls in a circle on top of each cupcake.
http://nooncafe.com/wp-content/uploads/2015/07/NoonCafe-Logo-with-full-shadow.21.png
0
0
Laura
http://nooncafe.com/wp-content/uploads/2015/07/NoonCafe-Logo-with-full-shadow.21.png
Laura
2015-04-05 14:28:42
2015-07-15 13:52:20
Easter Treats ~ Simnel Cupcakes