Happy Super Bowl Sunday!
To celebrate the Super Bowl, I made a batch of nacho kale chips to have during the game. (Although, they are disappearing quickly, and I may need to make another batch before tomorrow!) Nachos are a popular Super Bowl snack, so I figured a healthier version might be appreciated amid the rich choices of party food. (Plus they are green, which is the right color for my home team! 😉 Go Seahawks!)
I based my chips on a few different recipes, combining the ingredients I liked. The result is something I think I'll make again and again! They are really nice to have around the house when you want a cheesy, crunchy snack. I hope you'll give them a try!
Depending on how cheesy you like your chips, you can use either one or two bunches of kale. The chips in the pictures were made using only one bunch, so the nacho coating is relatively thick. Also, any kind of kale will work. I have used curly kale (in the photos) as well as lacinato, and both are delicious!
Nacho Kale Chips
1 or 2 large bunches of kale, rinsed, dried, stalks removed, and torn into chip size pieces
1 ½ cups raw cashews, soaked overnight
1 red bell pepper, seeds and ribs removed, roughly chopped
2 tablespoons fresh lemon juice
¾ cup nutritional yeast
¾ teaspoon kosher salt
Pinch of cayenne (or more if you like spicy chips)
Preheat oven to 200 degrees.
Line several baking sheets with parchment paper. I needed three sheets for one bunch of kale, and six sheets for two bunches.
In a food processor, blend all of the ingredients except the kale until smooth.
In a large bowl, combine the kale and the blended cashew mixture. Rub the mixture into each piece of kale so they are evenly coated.
Spread the kale out on the baking sheets, making sure not to overlap. This will ensure the chips get crispy.
Bake for about 2 to 3 hours, checking every 45 minutes or so. Flip the chips halfway through, and make sure they are not sticking to the pan. They are done when dry and crispy.
Store in an airtight container.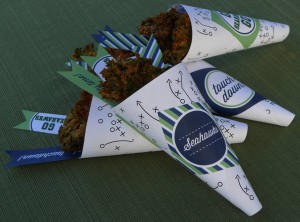 The football cones are the same ones I used last year from Snap! They are so cute that I printed them again. I dressed them up with some Seahawk printables from a website called Elegance and Enchantment. (They have Patriot decorations, also, if that's your preference. 🙂 )
http://nooncafe.com/wp-content/uploads/2015/07/NoonCafe-Logo-with-full-shadow.21.png
0
0
Laura
http://nooncafe.com/wp-content/uploads/2015/07/NoonCafe-Logo-with-full-shadow.21.png
Laura
2015-01-31 21:34:10
2015-07-15 14:06:19
Go Seahawks! ~ Nacho Kale Chips