We had a little culinary adventure this year in honor of the Lunar New Year in Vietnam (Tết). Rob and I love Vietnamese food, and we often go out for it in the International District. I also attended a Tết festival in Seattle Center this year where they had dragon dancers, firecrackers, and a chef demonstration. The chef made steamed rice cakes, which inspired me to give this type of cake a try at home!
I found this recipe on a Vietnamese cooking website called DanangCuisine.com. They were very pretty little desserts, with several layers of color from pandan and mung beans. I followed the recipe rather closely since I had never tried anything quite like this before in my kitchen. I did use light coconut milk instead of the full fat version, and I reduced the sugar a little bit, but otherwise followed the expert. 🙂
BÁNH DA LỢN – STEAMED LAYER CAKES
Based on a recipe from DanangCuisine.com
200 g tapioca starch (7 oz)
50 g rice flour (1.76 oz)
1 tsp pandan extract (or 5 fresh pandan leaves)
100 g peeled mung bean (3.5 oz)
200 g sugar (8.8 oz)
pinch of salt
400 ml light coconut milk (14 fl. oz)
300 ml water (10 fl. oz)
Rinse the mung beans a few times until the water becomes clear and soak in water for at least 1 hour (or overnight). Add just enough water to barely cover the beans and cook in a rice cooker until done. Alternatively, you can steam the beans for 15-20 minutes or until soft.
In a saucepan over low heat, dissolve sugar and salt in coconut milk and water. Let cool. In a large bowl, combine tapioca starch, rice flour and the coconut mixture. Stir well until dissolved.
In a blender, combine 350ml (1 + 1/2 cups) of the above batter with the cooked mung beans and blend until smooth. You will get a yellow batter.
Add pandan extract to the remaining batter. You will get a green batter. (To make pandan extract, blend 5 finely chopped pandan leaves with 120ml (1/2 cup) water and extract the juice.)
Grease the mold (or several smaller molds, such as ramekins) with vegetable oil. Fill the mold(s) with the green batter to a depth of about ½ inch (1cm). Cover and steam for a few minutes until slightly set. Then add the same amount of the yellow batter. Continue pouring and steaming the alternate colors until the molds are filled to the top.
After the last layer, steam the whole cake for another 15 minutes. When you poke the center of the cake with a chopstick and see no batter spilling, it is done.
Let cool completely and cut into pieces with a greased knife. You can keep the cake(s) in the refrigerator for up to 2-3 days. Warm slightly in the microwave before serving.
Happy New Year!
PS. If you live in the Northwest, Uwajimaya has all of the ingredients in this recipe. I love to visit my local store and explore the ingredients that most American markets don't carry.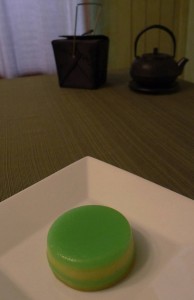 http://nooncafe.com/wp-content/uploads/2015/07/NoonCafe-Logo-with-full-shadow.21.png
0
0
Laura
http://nooncafe.com/wp-content/uploads/2015/07/NoonCafe-Logo-with-full-shadow.21.png
Laura
2014-01-31 23:33:41
2015-07-16 11:05:29
Happy Lunar New Year ~ Vietnamese Steamed Layer Cakes