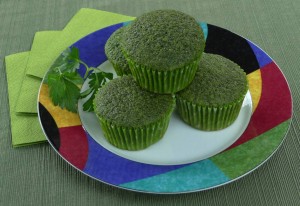 Spring is finally here! To celebrate the new season, I made a recipe for parsley cupcakes. It is one of the most interesting recipes I've come across in a long time, and I'm glad I tried it. 🙂  They have a unique herb flavor, and they are intensely green without the use of any food coloring. The original recipe was posted on Food52.com for St. Patrick's Day. If you haven't visited that website, I'd recommend it! They have a collection of very unique and delicious recipes to spice up (or in this case, herb up!) your kitchen. 🙂
I substituted the all-purpose flour with whole-wheat pastry flour, and I reduced the amount of salt and sugar a bit. I also made this recipe into individual cupcakes rather than a large cake.
Parsley Cupcakes
Based on a recipe from Food52.com
4 cups tightly packed parsley leaves, from about 5 bunches
1 cup tightly packed mint leaves, from 2 bunches
3/4 cup good olive oil
2 cups whole-wheat pastry flour
1 tablespoon plus 2 teaspoons cornstarch
1 teaspoon kosher salt
1 1/2 teaspoons baking powder
4 large eggs, at room temperature
2/3 plus 3/4 cups sugar
Preheat the oven to 340°F. Line 2 cupcake pans with paper liners. (The recipe makes about 17 cupcakes.)
To make the herb-oil mixture, put a fourth of the parsley and mint in a strong blender or food processor, and blend it on low speed. Use a blender stick to help crush the herbs while the blade is spinning (or stop the machine from time to time to push the herbs back down toward the blade). Slowly increase the speed to medium (or a steady puree, in a food processor) and continue adding the rest of the herbs until you have added all of them.
In a steady stream, add half of the olive oil. Mix on medium-low speed (or pulsing, if using a food processor) until all is combined. Add the remaining olive oil and blend for no longer than 10 seconds. The mixture will look loose and stringy. Scrape out the blender to get all of the parsley mixture, transfer it to a bowl, and refrigerate until ready to use.
In a bowl, combine the flour, cornstarch, salt, and baking powder and set aside.
In a stand mixer fitted with the paddle attachment, whip the eggs for about 30 seconds. Add the sugar and mix on high speed until the mixture is very thick and turns a pale yellow color, about 3 minutes. Turn the mixer speed down to low and add the herb-oil mixture.
With the machine still running, add the flour mixture and mix until just combined. Do not over mix.
Fill each cupcake liner about ¾ full with the batter.
Bake for about 18 to 20 minutes, rotating halfway through. When a cake tester inserted in the center of one cupcake comes out clean, they are done. Let the cupcakes cool in the pan.
http://nooncafe.com/wp-content/uploads/2015/07/NoonCafe-Logo-with-full-shadow.21.png
0
0
Laura
http://nooncafe.com/wp-content/uploads/2015/07/NoonCafe-Logo-with-full-shadow.21.png
Laura
2014-03-22 15:50:38
2015-07-15 21:43:15
Happy Spring! ~ Parsley Cupcakes