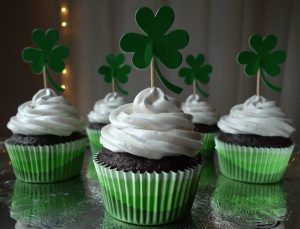 Happy St. Patrick's Day! Even though I am not even a wee bit Irish, I still love this festive holiday. 🙂 I wore green all day, enjoyed an Irish cozy mystery, and made these chocolate Guinness cupcakes to celebrate!
For the cupcakes, I was inspired by a recipe from Nigella Lawson, and a recipe by Yolanda Gampp inspired the frosting.
Chocolate Guinness Cupcakes
Makes about 24 standard-sized cupcakes
For the cupcakes:
1 cup Guinness stout
1/2 cup light olive oil
2 tablespoons skim milk
3/4 cup reduced-fat sour cream
2 eggs, beaten
1 teaspoon vanilla extract
3/4 cup unsweetened cocoa powder, sifted
1 1/4 cups granulated sugar
2 cups whole-wheat pastry flour
2 1/2 teaspoons baking soda
For the frosting:
1 cup granulated sugar
1/4 teaspoon cream of tartar
1/4 cup Guinness stout
4 egg whites
Pinch of salt
For the cupcakes:
Preheat oven to 350 F. Line 2 muffin tins with cupcake liners.
In a medium bowl, whisk together the stout, oil, milk, sour cream, eggs, and vanilla until everything is very well combined.
In a large bowl, whisk together the cocoa powder, sugar, flour, and baking soda.
Add the wet mixture in the medium bowl to the dry mixture in the large bowl, and whisk until just combined.
Divide the batter between the muffin tins, filling each cup about 2/3 full.
Bake for about 20 minutes, or until a toothpick inserted into the center of a cupcake comes out clean.
Let cool completely before frosting.
For the frosting:
Find a big pot in which the bowl of a stand mixer can fit inside without touching the bottom. Fill the pot with about 2 inches of water. (Take care that the water doesn't touch the bottom of the bowl.) Bring the water to a simmer.
In a small bowl or measuring cup, mix the sugar and cream of tartar. In the bowl of the stand mixer, add all of the frosting ingredients, and whisk until combined.
Place the bowl over the pot of simmering water. Attach a candy thermometer to the side of the bowl. Whisking often, let the mixture come up to 160 F. It will look a little frothy.
Once the mixture is at 160 F, remove the bowl from the pot and place it on the stand mixer fitted with a whisk attachment.
Whisk on high speed for about 7 minutes, or until the mixture is fluffy, cool, and very stiff.
Pipe or spoon the frosting onto your cupcakes for a nice fluffy head on your Guinness!
http://nooncafe.com/wp-content/uploads/2015/07/NoonCafe-Logo-with-full-shadow.21.png
0
0
Laura
http://nooncafe.com/wp-content/uploads/2015/07/NoonCafe-Logo-with-full-shadow.21.png
Laura
2017-03-17 21:29:29
2017-03-21 18:32:21
Happy St. Patrick's Day ~ Chocolate Guinness Cupcakes