Happy Valentine's Day!
I found some adorable Valentine cupcake recipes on MarthaStewart.com. I combined a few of my favorites, since there were so many cute ideas that I couldn't decide on just one. 🙂 These are inspired by a combination of Martha's recipes for Raspberry Cupcakes with Pink Buttercream and Lacy Chocolate Hearts as well as her Frosted Chocolate-Buttermilk Cupcakes.
For the cake recipe, I replaced the all-purpose flour with whole wheat pastry flour, I reduced the sugar slightly and I replaced the butter with coconut oil. Now they are a little more heart-healthy for heart day!
Chocolate Cupcakes
Based on a recipe from MarthaStewart.com
3/4 cup whole wheat pastry flour, (spooned and leveled)
2/3 cup sugar
1 teaspoon baking powder
1/2 teaspoon baking soda
1/4 teaspoon salt
6 tablespoons unsweetened cocoa powder, preferably Dutch-process
3 tablespoons coconut oil
6 tablespoons buttermilk
1 large egg
1 large egg white
Light Cream-Cheese Icing (recipe follows)
Chocolate Hearts decorations (recipe follows)
Directions
Preheat oven to 350 degrees. Line standard 12-cup muffin tin (or two 6-cup muffin tins) with paper liners. In a large mixing bowl, combine flour, sugar, baking powder, baking soda, and salt; set aside.
With an electric mixer, combine cocoa and 3 tablespoons hot water until a thick paste forms. Add coconut oil, buttermilk, egg, and egg white; beat until combined. Whisk in flour mixture until smooth.
Scoop (or spoon) batter into prepared tin(s). Bake until a toothpick inserted in the center of a cupcake comes out clean, about 20 minutes. Transfer cupcakes to a wire rack to cool completely.
Use an offset spatula or butter knife to spread icing over tops. Decorate as desired.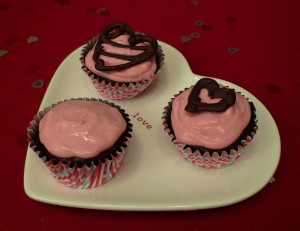 The original icing recipe was already a lightened version of a cream cheese frosting. I decided to make it a little more special and festive for the holiday by adding some raspberry puree, which made it pink! 🙂 It's more natural than red food coloring, and I love the raspberry flavor paired with the chocolate. I used a little less sugar than the recipe called for. Just taste as you go, and add as much or as little sugar and raspberry puree as you desire.
Light Cream Cheese Icing
Based on a recipe from MarthaStewart.com
Ingredients
3 ounces reduced-fat cream cheese
1 cup confectioners' sugar
1/2 bag of frozen raspberries
Directions
Thaw raspberries, and blend until pureed in a food processor. Strain through a fine mesh strainer to remove the seeds. With an electric mixer, beat cream cheese and as much of the confectioners' sugar and raspberry puree as you desire. (To make without a mixer, sift sugar before stirring into cream cheese.)
I made free form chocolate hearts to go on top of the cakes. However, if you'd like more perfect and uniform shapes, below is Martha's technique :).
Chocolate Hearts
Inspired by Martha Stewart's Chocolate Filigree Hearts
Ingredients
Dark or milk chocolate
Directions
Trace the inside of a 2-inch heart-shaped cookie cutter (surlatable.com) onto parchment 30 times using a pencil.
Flip parchment, and transfer to a baking sheet.
Melt 4 ounces chopped bittersweet chocolate in a double boiler or heatproof bowl set over a pan of simmering water. Let cool slightly. Transfer to a parchment cone (or resealable plastic bag). Snip a tip to make a small hole.
Pipe chocolate into hearts, following outlines and filling in with squiggles (be sure squiggles are at least 1/4 inch thick so hearts won't break when removed).
Freeze hearts until set, about 15 minutes. Remove hearts using an offset spatula. Makes 30.
http://nooncafe.com/wp-content/uploads/2015/07/NoonCafe-Logo-with-full-shadow.21.png
0
0
Laura
http://nooncafe.com/wp-content/uploads/2015/07/NoonCafe-Logo-with-full-shadow.21.png
Laura
2013-02-07 23:17:14
2015-07-19 12:37:06
Happy Valentine's Day! ~ Chocolate Cupcakes with Raspberry Cream Cheese Frosting and Chocolate Hearts