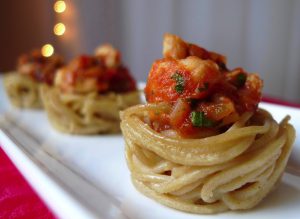 I just finished a wonderful cozy mystery set in the midst of a frigid New England winter called Iced Under. It is part of a delightful Maine Clambake series from Barbara Ross. I think this latest installment was my favorite of them all! I love how it combines a family mystery with some real New England history. I would highly recommend it if you are looking for a cozy winter book. 🙂
In the back of each Maine Clambake mystery, there is a recipe for a lobster dish. This one happened to have a lobster fra diavolo recipe, which combines lobster and other shellfish with a spicy tomato sauce and pasta. I decided to transform the dish from a main course into hors d'oeuvres that can be eaten in one bite. It's a perfect snack to enjoy while you read!
Lobster Fra Diavolo in Angel Hair Pasta Cups
Makes about 24 hors d'oeuvres
For the cups:
Approximately 4 ounces whole-wheat angel hair pasta, broken in half
1 cup Parmesan cheese, finely grated
1 egg, beaten
For the filling:
1 tablespoon high heat cooking oil
1 small shallot, minced
Red pepper flakes, to taste
1 garlic clove, minced
1/4 teaspoon dried oregano
1/2 cup dry white wine
3/4 cup crushed canned tomatoes (I used San Marzano)
Salt, to taste
Freshly ground black pepper, to taste
Approximately 8 ounces precooked lobster meat, cut into a small dice
About 1 tablespoon Italian flat leaf parsley, minced
About 1 tablespoon fresh basil, cut into thin ribbons
For the cups:
Preheat oven to 375 F. Spray a mini muffin pan with cooking spray.
Cook the pasta according to the package instructions. Aim for a softer texture rather than a firmer texture, since they will dry out slightly in the oven.
Drain the pasta. Toss with cheese and egg until all of the strands of pasta are well coated. Divide the pasta between 24 mini muffin cups. Arrange the pasta strands in the muffin cups so they cover the bottom of each and form cuplike shapes.
Bake for about 7 minutes, or until the egg is set.
Cool slightly, and then remove the pasta cups carefully from the pan.
These can be made the day ahead and refrigerated in an airtight container. Gently warm the cups for a few seconds in the microwave before filling and serving.
For the filling:
Preheat a medium sauté pan over medium high heat. Add the oil, and allow it get hot and shimmering. Then add the shallot, and cook until translucent. Next, add the red pepper flakes, garlic, and oregano. Cook until just fragrant, about 30 seconds. Add the wine, and bring to a boil. Scrape any fond from the bottom of the pan. Then add the tomatoes. Cook until the mixture reduces and thickens to your liking. Season with salt and black pepper.
Add the lobster meat to the tomato mixture, and cook until it is just heated through.
Turn off the heat, and stir in the parsley and basil.
Spoon a little of the lobster/tomato mixture into each pasta cup. Serve immediately.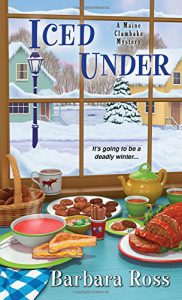 http://nooncafe.com/wp-content/uploads/2015/07/NoonCafe-Logo-with-full-shadow.21.png
0
0
Laura
http://nooncafe.com/wp-content/uploads/2015/07/NoonCafe-Logo-with-full-shadow.21.png
Laura
2017-02-25 21:18:05
2017-03-21 19:03:16
Iced Under ~ Lobster Fra Diavolo in Angel Hair Pasta Cups