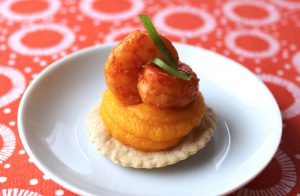 My hubby and I visited a Korean restaurant earlier this winter, which sparked my interest in this delicious cuisine! Coincidentally, the Winter Olympics are now in South Korea, so this culinary adventure was well timed! I have made many visits to the Korean grocery store and cooked many traditional recipes this winter to explore the wide range of dishes. We've tried everything from japchae to tteokbokki to kalguksu to bibimbap to name a few. And I still have many many other dishes on my wish list that I want to try! A lot of the dishes are hearty and comforting (and spicy!!), so they are the perfect way to liven up our wet and gray winter days here in Seattle.
These little bite-sized appetizers were inspired by this Korean culinary adventure. I made sesame crackers as a base, since sesame seeds and/or oil are used in many traditional recipes I've tried. I made a winter squash purée as a seasonal sweet center to contrast with the salty cracker and the spicy shrimp. Then I topped it with shrimp coated in gochujang (Korean spicy pepper paste), sesame oil, and soy sauce. I also added a little gochugaru (Korean spicy pepper flakes) to kick up the heat a little more.
Spicy Shrimp and Winter Squash Canapés on Sesame Crackers
Makes about 25 canapés
For the crackers:
1/2 cup white whole-wheat flour
1/2 cup all-purpose flour, plus more for rolling
1/4 cup sesame seeds
1/2 teaspoon kosher salt, plus more for the tops of the crackers
1/2 teaspoon baking powder
1 1/2 tablespoons light olive oil
1/4 cup + 2 tablespoons water
For the squash:
1 butternut squash, seeded, peeled, and cut into approximately 3-inch chunks.
Approximately 1 tablespoon high-heat cooking oil, such as rice bran oil
Salt to taste
Water for thinning the purée
For the shrimp:
2 tablespoons gochujang
2 tablespoons warm water
1 teaspoon sesame oil
1 teaspoon soy sauce
Gochugaru to taste, optional, (if you like it extra spicy!)
Approximately 2 tablespoons high-heat cooking oil, such as rice bran oil
Approximately 1/2 pound small raw shrimp (I used 70-90), peeled and deveined
For garnish:
The green portion of approximately 4 green onions, cut into 1 to 2-inch pieces, sliced into very thin strips
For the crackers:
Preheat oven to 450 F. Line three baking sheets with parchment paper.
In a medium bowl, whisk together the flours, seeds, salt, and baking powder. Add the olive oil and water, and stir until combined. Knead the dough until it becomes a cohesive ball. Cover the dough with plastic wrap, and let the dough rest for at least 15 minutes.
Divide the dough into 3 portions. One portion at a time, on a lightly floured surface, roll the dough to about 1/8-inch. Cut out crackers in desired shapes, or make squares with a pizza wheel. I used a biscuit cutter that was about 2-inches wide.
Place the crackers on the prepared baking sheets. Sprinkle with a little salt on top. Prick the top of the crackers with a fork to ensure they don't rise and bubble very much as they bake. Bake each tray individually for about 6 or 7 minutes, turning once, until the crackers are crisp and lightly golden.
Set the crackers aside as you work on the squash and shrimp.
For the squash:
Keep your oven heated to 450 F. Line a baking sheet with parchment paper.
Toss the pieces of squash with oil and salt until coated. Bake for about 30 minutes, turning once, until soft and slightly caramelized.
In the bowl of a food processor, purée the roasted squash. Add a little water if it is too thick. (It should be a consistency that allows you to pipe the purée.) Season with more salt to taste if needed.
Cool the squash purée to room temperature.
Scoop the squash into a piping bag with a large round tip.
Set aside.
For the shrimp:
In a medium bowl, whisk together the gochujang, water, sesame oil, and soy sauce until smooth. Add a pinch of gochugaru if you would like the sauce to be spicier.
Preheat the high-heat cooking oil in a medium sauté pan until shimmering. Add the shrimp, and sauté on both sides until just cooked through. Toss the shrimp in the bowl with the gochujang mixture until well coated.
To assemble:
Pipe a small dollop of squash onto the crackers. Top with 2 shrimp. Top the shrimp with the green onion. Serve immediately.
PS. This appetizer is good warm, room temperature, or cold, so you can make all of the components ahead of time. If you are not assembling the appetizers right away, store the crackers in an airtight container, and refrigerate the squash and the shrimp.
http://nooncafe.com/wp-content/uploads/2015/07/NoonCafe-Logo-with-full-shadow.21.png
0
0
Laura
http://nooncafe.com/wp-content/uploads/2015/07/NoonCafe-Logo-with-full-shadow.21.png
Laura
2018-02-20 20:31:12
2018-03-01 21:55:59
Korean Culinary Adventure! ~ Spicy Shrimp and Winter Squash Canapés on Sesame Crackers