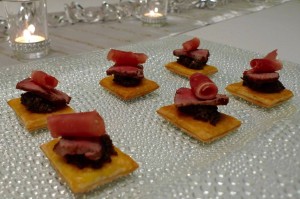 As 2015 is coming to a close, I made these mini beef Wellington canapés as my last hurrah of the year. 🙂 These little Wellingtons had all of the flavors of their full-sized counterpart – puff pastry, mushrooms, beef tenderloin, and prosciutto. They were fun and festive, and oh so cute!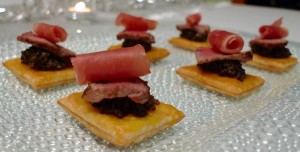 Beef Wellington Canapés
6 ounces crimini mushrooms
1 sprig thyme
1 splash dry white wine
1 sheet puff pastry, refrigerated
1 egg, beaten
4 ounces beef tenderloin
Approximately 5 pieces thinly sliced prosciutto
Salt and pepper, to taste
In a food processor, pulse the mushrooms until they are approximately the size of coarse breadcrumbs. In a medium sauté pan over medium heat, cook the mushrooms (without oil) with the sprig of thyme until the mushrooms are dry. Add a splash of white wine, and cook until the pan is dry once again. Remove the thyme. Season to taste with salt and pepper. Set aside.
Preheat oven to 400 F. Line a sheet pan with parchment paper. Roll out the puff pastry on a floured work surface until it is about double in height and width. With a pizza wheel or pasta roller, cut the pastry into small squares. Place the squares on the prepared sheet pan. Cover the pastry with another piece of parchment, and cover the sheet pan with another sheet pan so they are nesting. This will ensure that your puff pastry won't puff too much. Bake for 8 minutes. Remove the top pan and top parchment paper. Let the pastry cool enough so you can handle it, and then lightly brush the beaten egg on each piece. Bake for 3 minutes more, or until shiny and golden.
Season the steak with salt and pepper. Sear until the meat is done to your liking. After it has rested for 5 minutes, slice as thinly as possible.
To assemble, scoop a small spoonful of the mushroom mixture on the top of each piece of puff pastry. Top with a thin slice of steak. Roll a small piece of prosciutto into a tiny tube, and place it on top of the steak. Serve immediately.
http://nooncafe.com/wp-content/uploads/2015/07/NoonCafe-Logo-with-full-shadow.21.png
0
0
Laura
http://nooncafe.com/wp-content/uploads/2015/07/NoonCafe-Logo-with-full-shadow.21.png
Laura
2015-12-31 20:45:07
2016-01-15 20:48:15
New Year's Eve Party! ~ Beef Wellington Canapés