We enjoyed a simple and elegant Easter dinner at home this year. I tried three recipes that were inspired by Sophie Dahl's cookbook entitled Very Fond of Food: A Year in Recipes. She's a British cook I recently discovered, and I like her style. 🙂 She has two cookbooks, and she also had a little cooking show on the BBC.
For our Easter dinner, we enjoyed bruschetta with an artichoke spread, lobster and crab salad, and this rhubarb rice pudding. I have a sweet tooth, so this was my favorite dish of the evening. 🙂 I love the subtle edition of orange flower water and rose water. It made it a little special and spring-like without being overwhelming.
Rhubarb Rice Pudding
Based on a recipe by Sophie Dahl
For the rice:
4 cups skim milk
¾ cup basmati rice
1 cinnamon stick
¼ cup honey
½ teaspoon orange flower water
For the rhubarb:
12 oz rhubarb, cut into 1-inch lengths
½ cup water
1 star anise
½ teaspoon rose water
2 tablespoons honey
First, make the rice pudding. Pour the milk and rice into a medium sized saucepan, add the cinnamon stick, bring to a boil, and then simmer over very low heat, stirring frequently, for about 15 minutes. At this point, stir in the honey and orange flower water and cook for another 5 to 10 minutes until the pudding is to the consistency that you like. Remove the cinnamon.
In a separate heavy bottomed saucepan, combine the rhubarb, water, star anise, rose water, and honey. Bring to a boil and simmer on low for about 10 minutes, turning once or twice, until you have a lovely tender pink softness. Remove the anise. Plate the rice pudding and swirl the rhubarb through. Or, conversely, serve the rice with a small dollop of the rhubarb on the top as I did.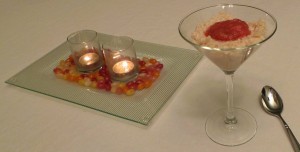 http://nooncafe.com/wp-content/uploads/2015/07/NoonCafe-Logo-with-full-shadow.21.png
0
0
Laura
http://nooncafe.com/wp-content/uploads/2015/07/NoonCafe-Logo-with-full-shadow.21.png
Laura
2014-04-20 20:34:46
2015-07-15 21:41:30
Sweet Ending to Easter Dinner ~ Rhubarb Rice Pudding