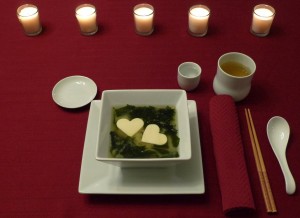 Rob and I celebrated Valentine's Day and our engagement anniversary all weekend, culminating with a fancy sushi dinner! I decided to try making miso soup from scratch to go with the dinner, since it is almost always served at Japanese sushi restaurants. I really had no idea how it was made or what went into it before I tried it at home. I just knew it was delicious! 😉 Now I have a whole new appreciation for it, so I thought I would share the recipe I used. It's a traditional soup in Japan, but in my American kitchen, it was a new and exciting culinary adventure.
Since we were celebrating Valentine's Day and to make the soup a little more special, I cut the tofu into heart shapes with a little cookie cutter. So cute! 🙂
Miso Soup
From Gourmet magazine
1/2 cup dried wakame (a type of seaweed)
1/4 cup shiro miso (white fermented-soybean paste)
6 cups Dashi (recipe follows)
1/2 pound soft tofu, drained and cut into 1/2-inch cubes
1/4 cup thinly sliced scallion greens
Prepare wakame:
Combine wakame with warm water to cover by 1 inch and let stand 15 minutes, or until reconstituted. Drain in a sieve.
Make soup:
Stir together miso and 1/2 cup dashi in a bowl until smooth. Heat remaining dashi in a saucepan over moderately high heat until hot, then gently stir in tofu and reconstituted wakame. Simmer 1 minute and remove from heat. Immediately stir in miso mixture and scallion greens and serve.
Dashi (Japanese Sea Stock)
From Gourmet magazine
6 cups cold water
1 oz (30 grams) kombu (dried kelp), about 20 square inches
2 (5-gram) packages katsuo bushi (dried bonito flakes), about 1 cup
Bring cold water and kombu just to a boil in a large saucepan over high heat. Remove from heat and remove kombu. Sprinkle katsuo bushi over liquid; let stand 3 minutes and, if necessary, stir to make katsuo bushi sink. Pour through a cheesecloth-lined sieve or a coffee filter into a bowl.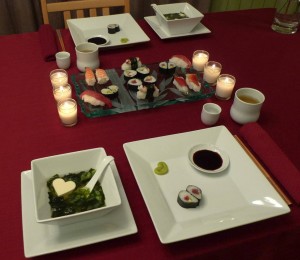 For the sushi we enjoyed with the soup, I used this sushi rice recipe. If you are using a pot on the stovetop rather than a rice cooker, we thought it was a very good one. Along with the traditional rolls, we also made a couple of pieces in heart shapes. 🙂 To see how to do that, here is a little video. So fun!
We paired our dinner with a little sake, since that only seemed fitting! There is a Northwest sake maker in Oregon called Momokawa, and we had their Organic Junmai Ginjo with our sushi feast. I would highly recommend it. 🙂
幸せなバレンタインデー (Happy Valentine's Day)!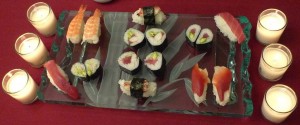 http://nooncafe.com/wp-content/uploads/2015/07/NoonCafe-Logo-with-full-shadow.21.png
0
0
Laura
http://nooncafe.com/wp-content/uploads/2015/07/NoonCafe-Logo-with-full-shadow.21.png
Laura
2014-02-17 22:02:37
2015-07-15 21:47:00
Valentine Sushi Dinner ~ Miso Soup