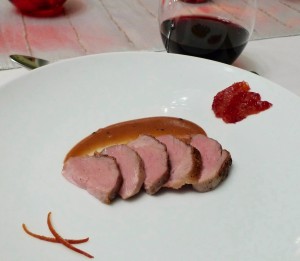 Our Valentine dinner was a celebration of winter citrus! I love that citrus fruit comes into season in the middle of the winter months, just when we can use a bit of brightness. I thought it would be fun to choose a variety of citrus fruits, and then base my menu on what I found at the market.
I ended up with kumquats, blood oranges, Buddha's hand, and a pomelo. This was my first time playing with Buddha's hand, which was quite a discovery! I would highly recommend picking one up if you see it at the market. The scent is lovely, and the taste is distinctly different than any other citrus I have tried before. I really enjoyed exploring what I could do with the fruit. A culinary adventure! 🙂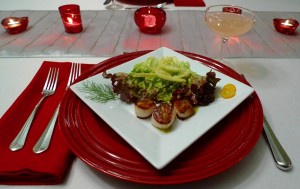 We began our dinner with scallops and fennel salad, all dressed in a tarragon and kumquat vinaigrette. The main course was seared duck breast with a blood orange sauce. Then for dessert we had Buddha's hand cheesecake with candied Buddha's hand on top. It was all paired with a sparkling wine pomelo cocktail and a delicious red wine from Orange Coast Winery.
I think our favorite dish of the night was the duck. The recipe was based on a duck bigarade recipe, which is a dish traditionally made with Seville oranges. I used blood oranges that were a little tart since I thought the blood orange color was perfect for Valentine's Day!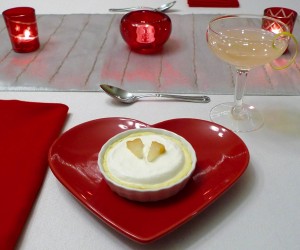 Seared Duck Breast with Blood Orange Sauce
Based on a recipe from Epicurious.com
Serves 2
2 duck breasts
Salt, to taste
1 tablespoon all-purpose flour
1 cup low-sodium chicken stock
1/2 cup freshly squeezed blood orange juice
1 tablespoon orange liqueur
1 tablespoon sherry vinegar
Freshly ground black pepper, to taste
Zest of 1/2 blood orange, for garnish
Flesh of 1-2 blood oranges, for garnish
Salt the duck breasts generously on both sides, and allow them to sit at room temperature for about 15 minutes.
Preheat a large skillet over medium high heat. Pat the duck dry with a paper towel. Once the pan is hot, place the duck breasts into the pan, skin side down. Sear about 6 minutes on the skin side, and about 4 minutes on the flesh side, or until golden on the outside and still a little pink (medium) on the inside. (Of course, if you like your red meat cooked more, by all means cook it a little longer.) When the duck is cooked to your liking, set it aside on a cutting board. Tent with foil.
While the duck rests, discard all but 2 tablespoons of the duck fat in the pan. Turn the pan onto medium heat. Add the flour to the hot fat, and whisk until well combined. Cook until it is the color of a café au lait.
Slowly whisk in the stock, orange juice, orange liqueur, and vinegar. Pour any juices that may have accumulated around the duck into the sauce. Boil the sauce until thickened to the consistency of gravy. Salt and pepper to taste. Optional: Strain the sauce through a fine mesh strainer for a smoother consistency.
Remove the fat from the duck breast. Thinly slice the meat, and serve with the sauce, orange zest and orange slices.
http://nooncafe.com/wp-content/uploads/2015/07/NoonCafe-Logo-with-full-shadow.21.png
0
0
Laura
http://nooncafe.com/wp-content/uploads/2015/07/NoonCafe-Logo-with-full-shadow.21.png
Laura
2016-02-15 20:43:46
2016-03-06 19:30:43
Valentine's Day Dinner ~ Seared Duck Breast with Blood Orange Sauce