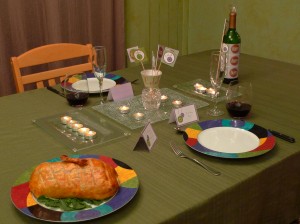 Happy birthday to my hubby!
Every year he likes to have a fillet of beef dish for his birthday, so I decided to try beef Wellington this time around. I have tried several British/UK dishes this year, so this added to my collection. 🙂 He said it was within his top 1% of anything I have ever made for him, so I might make it a birthday tradition!
I used a recipe from the BBC, but tweaked it a bit for my American kitchen and for our tastes.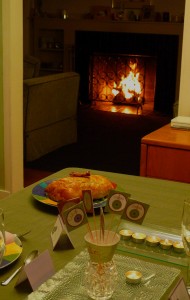 Beef Wellington
Based on a recipe from BBC Good Food
2 lbs beef tenderloin
Olive oil
10 oz crimini mushrooms
1 large sprig fresh thyme
Splash dry white wine
12 pieces thinly sliced prosciutto
1 pack frozen puff pastry, thawed
Flour for dusting
3 egg yolks beaten with 2 tsp water
1. Heat oven to 350 degrees F. Heat a large skillet over medium heat. Drizzle olive oil in pan until it is hot, but not smoking. Season beef with salt and pepper. Sear on all sides until golden. Then place beef on a roasting rack and cook in oven for about 20 minutes. (It will not be cooked through.) Remove from the oven to cool, and then chill in the refrigerator for about 20 minutes.
2. While beef is cooling, place the cleaned mushrooms in a food processor and pulse until fine. It should be the texture of coarse bread crumbs.
3. Preheat a large skillet over medium heat. Cook the mushrooms with the sprig of thyme in a dry pan with no oil, stirring often, about 10 minutes. When the liquid has cooked out of the mushrooms, pour a splash of white wine into the pan. Cook until dry once more. Remove thyme and season to taste with salt and pepper. Set aside.
4. Overlap 2 pieces of cling film (otherwise known as Saran wrap for us American cooks :)) over a large chopping board. Lay the prosciutto onto the cling film, slightly overlapping one another, in a double row. Spread the cooled mushrooms over the prosciutto evenly. Remove the beef from the refrigerator, and pat dry with a paper towel. Place it in the middle of the cling film with the prosciutto and mushrooms. Use the cling film's edges to draw the prosciutto around the fillet tightly, and then roll it into a sausage shape, twisting the ends of the cling film to tighten. Chill the fillet once again.
5. Dust your clean work surface with a little flour. Roll out one piece of puff pastry until it is large enough to wrap around the fillet. Unravel the fillet from the cling film and set it in the center of the pastry. Beat the egg yolks and water together for an egg wash. Brush the pastry edges and the top and sides of the fillet with the egg wash. Wrap the pastry around the beef as tightly as you can, overlapping slightly to cover the whole fillet. Tuck the sides in as you would a package, so the beef is completely wrapped. Use the egg wash as a "glue" to make sure it stays together. Trim with kitchen shears if need be. Glaze the entire package with the egg wash. Using the back of a knife, mark the beef Wellington with long diagonal lines taking care not to cut through the pastry. Chill for at least 30 minutes.
6. Heat oven to 375 degrees F. Brush the Wellington with a little more egg wash and cook on a rack until golden and crisp, about 30 minutes, or until it is done to your liking. (Ours was still pink, but cooked through.) Allow to rest for about 20 minutes once it comes out of the oven. Serve in thick slices.
PS. I also made a little puff pastry "bow" with the extra pastry. Since this meal was part of Rob's birthday gift, I thought I should wrap it like a present. 🙂 Just cut the rolled puff pastry into a ribbon shape, and twist once in the middle so it looks like a bow. Brush with the extra egg wash. Bake with the Wellington, but separately, on the side. It will cook faster than the Wellington, so remove when golden.
PPS. Rob asked for my chocolate mint pudding for dessert, so I served it in martini glasses with a little whipped cream and a sprig of mint for a classy presentation, fitting for a birthday! 🙂 The recipe can be found here.
PPPS. I used some adorable little printable decorations to make his birthday table unique and festive. I found them on a website called CatchMyParty.com. So cute! If you need some festive decorations for a party, they are easy and free. 🙂 I wrapped his wine bottle with them, made little flags, made a banner, used a cupcake wrap around a little vase, and wrote little birthday notes on the place cards.
http://nooncafe.com/wp-content/uploads/2015/07/NoonCafe-Logo-with-full-shadow.21.png
0
0
Laura
http://nooncafe.com/wp-content/uploads/2015/07/NoonCafe-Logo-with-full-shadow.21.png
Laura
2013-11-12 20:40:09
2015-12-18 21:35:56
Happy Birthday! ~ Beef Wellington