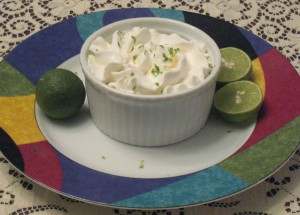 I am reading a summery beach book that is set in the Florida Keys called Happiness Key by Emilie Richards. It's such a good book that it inspired me to make a recipe with some Key limes! One of our favorite summertime desserts is a strawberry cheesecake tart (I promise to add that recipe soon), so I decided to put a spin on that with limes. I also thought it would be cute to make individual cheesecakes instead of a big one. Tiny little cheesecakes for tiny little fruits. 🙂
Individual Key Lime Cheesecakes
4 ramekins
Cooking spray
1 oz vanilla wafers
1 8-oz package of Neufchatel reduced fat cream cheese
1/4 cup and 1 tablespoon of sugar
1 egg
1 1/2 tablespoons Key lime juice (preferably fresh squeezed)
1/2 teaspoon vanilla extract
Whipped topping such as Reddi Wip
Preheat your oven to 350 degrees.
Grind the vanilla wafers in a food processor until they are the consistency of sand. Wipe out the food processor well for the next step.
Spray the ramekins with cooking spray. Sprinkle the crumbled vanilla wafers into a thin even layer on the bottom of each.
In the cleaned food processor, blend the cheese, sugar, eggs, juice and extract until very smooth. Spoon the cheese mixture evenly between the four ramekins, covering the cookie crumbs.
Bake until set, about 20 minutes.
Cool for about 10 minutes, and then refrigerate for at least a couple of hours until they are very cold.
Serve with a little dollop of whipped topping and lime zest grated over the top. Maybe even add a couple of the cute little limes on the side of the dish to display what's inside.
Now I can curl up with my book out on our deck in the sunshine and virtually escape to a beach on the Florida Keys with a mini Key lime cheesecake :). I hope you'll join me!
PS. You can also make a smaller version of these cheescakes in a muffin tin with aluminum baking cups. Follow the same recipe, but just cook them for a little less time until they are set. After chilling, take them out of the baking cups, and they look like miniature tarts. (Below)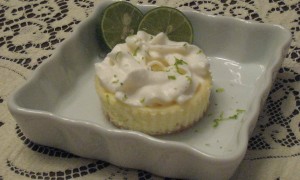 http://nooncafe.com/wp-content/uploads/2015/07/NoonCafe-Logo-with-full-shadow.21.png
0
0
Laura
http://nooncafe.com/wp-content/uploads/2015/07/NoonCafe-Logo-with-full-shadow.21.png
Laura
2010-07-07 21:01:52
2015-07-26 17:01:51
Enjoy a virtual trip to the tropics...Individual Key Lime Cheesecakes