This month, I am thoroughly enjoying a cozy mystery that is set in a Charleston, South Carolina tearoom entitled Steeped in Evil. It is such a descriptive book and the characters are so vividly written, that I feel like I am taking a virtual vacation to Charleston! When I find an absorbing book like this, I often get inspired to make a recipe to compliment the story. It's my way to get a little more into the storyline, and to make it come to life. 🙂 With this book, I wanted to make something small and sweet that might be served in a tearoom, and I also wanted to incorporate tea within the treat. Chamomile muffins fit the bill! They are perfect to nibble on a lazy and decadent afternoon of reading. I enjoyed some quiet time alone outside on this lovely summer day with a cup of tea, a muffin, and my book. 🙂 I even got out my teapot and poured a glass of bubbly as the fancy teashops do. I felt a little like I was a part of an afternoon tea at the main character's store, the Indigo Tea Shop.
I based these muffins on a recipe from Joy the Baker. I substituted whole-wheat pastry flour for the all-purpose flour, light olive oil for the butter, and I reduced the sugar from the original recipe. The end result was moist, delicate, and delicious! The chamomile flavor really shines through. I didn't top them with a glaze, but just a light dusting of powdered sugar.
Chamomile Muffins
Based on a recipe from Joy the Baker
1/4 cup light olive oil
1 cup whole-wheat pastry flour
1/2 cup granulated sugar
1 teaspoon baking powder
1/2 teaspoon baking soda
Pinch of salt
3 tablespoons dried chamomile (from tea bags)
1/2 cup skim milk
1 large egg
1 teaspoon pure vanilla extract
Place a rack in the upper third of the oven and preheat oven to 325 degrees F.  Line a muffin pan with paper or foil liners and set aside. (It makes about 12 standard size muffins.)
To make the cakes:  in the bowl of an electric stand mixer fitted with a paddle attachment, mix together oil, flour, sugar, baking powder, baking soda, pinch of salt, and chamomile leaves.  Mix on medium speed until the mixture is slightly coarse and sandy.
While the mixture beats, in a small bowl, whisk together milk, egg, and vanilla extract.
Pour half of the milk mixture into the flour mixture.  Beat until just incorporated.  Pour in the remaining milk mixture, turn the mixer up to medium-high speed and beat for 1 minute, until well blended.
Divide the batter between the prepared cups, filling only half way.
Bake the muffins for 17 to 20 minutes for the standard size, 10 to 14 minutes for the mini size, or until a skewer inserted in the center comes out clean. Remove from the oven and allow to cool in the pan for 10 minutes. Remove the muffins from the pan to cool completely before frosting.
Cakes will last, well wrapped, at room temperature for up to three days.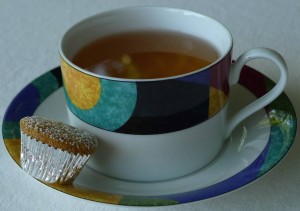 Steeped in Evil is the latest release in the series, but I am looking forward to reading more of the teashop mysteries by Laura Childs. If you are looking for a fun and light summer book, you might enjoy one of these mysteries, too!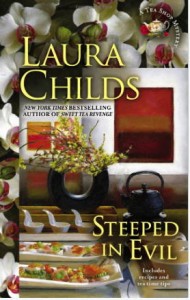 http://nooncafe.com/wp-content/uploads/2015/07/NoonCafe-Logo-with-full-shadow.21.png
0
0
Laura
http://nooncafe.com/wp-content/uploads/2015/07/NoonCafe-Logo-with-full-shadow.21.png
Laura
2014-06-30 19:03:26
2015-09-26 19:24:51
Teashop Mystery ~ Chamomile Muffins