I love to read a good cozy mystery around Halloween. 🙂 Right now, I am enjoying one that takes place in October entitled The Jasmine Moon Murder by Laura Childs. It is another in a series I started this summer, set in a South Carolina tea shop. In the back of the book are recipes that compliment the storyline, including a recipe for a dish called Chicken Bog. Doesn't that sound spooky and Halloweeny? I learned that the dish is a classic in the Lowcountry, and it is called "bog" because it isn't a soup, but it is very moist. I thought it would be perfect to make to celebrate the Halloween season!
I based my dish on the recipe provided by Laura Childs, but I made a few tweaks of my own. One of the nice things about this recipe is that you also end up with a few cups of chicken stock to freeze for a future dish. It's always nice to have homemade chicken stock in the freezer, especially now that the season for soups is right around the corner.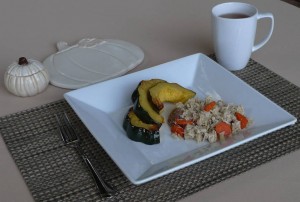 Chicken Bog
Based on a recipe from The Jasmine Moon Murder
About 6 servings
6 cups water
1 large onion, coarsely chopped
Salt to taste
3 to 4 pound whole chicken (I used one that my butcher cut up already for ease)
5 carrots, sliced
5 celery stalks, sliced
1 tablespoon whole peppercorns
1 cup brown long grain rice
½ lb smoked chicken sausage, sliced
1 tablespoon poultry seasoning
1 tablespoon dried parsley flakes
Place the water, onion, salt, chicken, 3 carrots, 3 celery stalks, and peppercorns in a large pot, and bring to a boil. Cover, reduce heat to a simmer, and cook until chicken is tender, about 1 hour. Remove chicken and let cool, reserving the cooking liquid. Let the liquid cool, strain, and skim the fat from the top. Measure 3 ½ cups of the liquid, and pour into a fresh pot. (The remaining liquid can be put into the refrigerator or freezer for a future use.) Remove skin and bones from chicken, and chop into bite sized pieces. Add chicken pieces, remaining 2 carrots, remaining 2 celery stalks, rice, sausage, poultry seasoning, and parsley flakes to the stock. Make sure it is seasoned with enough salt to your liking. Add more if needed. Bring to a boil, cover, and reduce heat to a simmer. Cook for about 30 minutes, or until the rice is tender.
http://nooncafe.com/wp-content/uploads/2015/07/NoonCafe-Logo-with-full-shadow.21.png
0
0
Laura
http://nooncafe.com/wp-content/uploads/2015/07/NoonCafe-Logo-with-full-shadow.21.png
Laura
2014-10-07 17:06:03
2015-10-07 20:26:29
Spooky Dinner ~ Chicken Bog