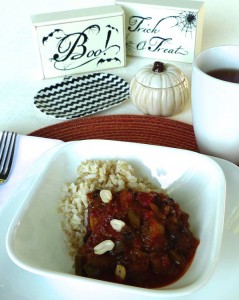 I love a good cozy mystery around Halloween, and right now I am reading the latest teashop mystery from Laura Childs called Ming Tea Murder. It is set in Charleston, South Carolina around Halloween. This is the third book I've read in this fun series. (If you'd like, check out the recipes I made to pair with the other two mysteries I have enjoyed from this collection, Steeped in Evil and Jasmine Moon Murder.) In the latest book, one of the characters cooks a dish called Country Captain. It's a Southern dish, but it uses curry spices, dried currants, and peanuts, which is an unexpected and interesting combination. Just like the book, this recipe combines the East and the West, and it is filled with surprising twists! It's the perfect pairing. 🙂
I love to learn about the history behind classic dishes, so I dug a little deeper online. The Oxford Encyclopedia of Food and Drink in America describes the origin of Country Captain in this way: "Legend has it that a British sea captain who served it in India introduced the dish to locals either in Charleston or Savannah, port cities accustomed to both spices and sailors."
I used a recipe from Saveur magazine, but I tweaked it a little. First, I used all chicken thighs since they stew beautifully. Make sure to remove the skin or the dish will be far too greasy. I reduced the amount of oil, and omitted the butter and the bacon. I also served it with brown rice rather than white.
Country Captain
Based on a recipe from Saveur magazine
3 pounds bone-in chicken thighs, skin removed
1 teaspoon dried thyme
Kosher salt and freshly ground black pepper, to taste
2 tablespoons high heat oil, such as safflower
3 stalks celery, chopped
2 green bell peppers, cored, seeded, and chopped
1 large yellow onion, chopped
4 cloves garlic, minced
1 (28-ounce) can whole peeled tomatoes, drained, 3/4 cup tomato juice reserved
3 tablespoons curry powder
1/3 cup dried currants
2 bay leaves
2 cups steamed brown rice, for serving
Roasted peanuts, for garnish
Season chicken with thyme, salt, and pepper. Preheat a large stock pot or Dutch oven over high heat. Add the oil. When the oil is hot and shimmering, add the chicken. Sear on both sides until golden brown. Transfer the chicken to a plate and set aside.
Lower the heat to medium. Add the celery, peppers, and onion to the pot, and cook until softened. Add the garlic, and cook until fragrant, about 30 seconds. Add the tomatoes and juice and cook until the juice thickens, about 10 minutes. Stir in the curry powder, currants, and bay leaves. Reduce heat to medium-low, cover, and simmer for about 30 minutes, or until the sauce is thick. Season to taste with salt and pepper.
In the meantime, heat your oven to 325˚.
After the sauce is thickened, add the chicken back to the pot. Spoon the sauce over the meat. Cover and cook in the oven for about 1 hour and 15 minutes, or until the meat can easily be shredded off the bone with a fork.
In the meantime, prepare the rice according to the package instructions.
Serve the chicken with the sauce and rice, and garnish with peanuts.
http://nooncafe.com/wp-content/uploads/2015/07/NoonCafe-Logo-with-full-shadow.21.png
0
0
Laura
http://nooncafe.com/wp-content/uploads/2015/07/NoonCafe-Logo-with-full-shadow.21.png
Laura
2015-10-06 13:11:41
2015-10-07 19:25:33
October Teashop Mystery ~ Country Captain