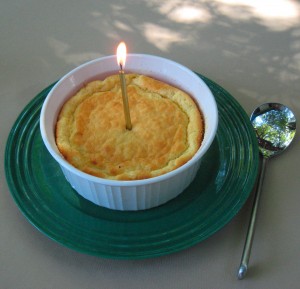 Julia Child would have turned 100 years old today. That milestone has inspired cooks everywhere to remember her and to cook something a little French this evening :).
Sur La Table is hosting cooking classes this month to celebrate her birthday including 4 of Julia's recipes. I recreated my favorite of the 4 at home ~ The cheese soufflé. The original is published in The Way to Cook, and Bon Appétit magazine also published an adaptation of the recipe a few years ago.
I used Earth Balance instead of butter, because ever since I discovered it, I don't buy butter anymore. It does everything I need. I also used skim milk instead of whole. Other than that, I followed the recipe closely, since Julia was known for testing her recipes thoroughly. Don't want to question the master! 😉
Cheese Soufflé
Adapted from The Way to Cook
2 tablespoons finely grated Parmesan cheese (or other hard cheese)
1 cup skim milk
2 1/2 tablespoons Earth Balance, plus more for greasing pan
3 tablespoons unbleached all purpose flour
1/2 teaspoon paprika
1/2 teaspoon salt
3 grinds of pepper
Speck of ground nutmeg
4 large egg yolks
5 large egg whites
1 cup (packed) coarsely grated Gruyère cheese (about 4 ounces)
Position rack in lower third of oven and preheat to 400 F.
Grease 6-cup (1 1/2-quart) soufflé dish with Earth Balance. Add Parmesan cheese and tilt dish, coating bottom and sides.
Warm milk in heavy small saucepan over medium-low heat until steaming.
Meanwhile, melt Earth Balance in heavy large saucepan over medium heat. Add flour and whisk until mixture begins to foam and loses raw taste, about 3 minutes (do not allow mixture to brown). Remove saucepan from heat; let stand 1 minute. Pour in warm milk, whisking until smooth. Return to heat and cook, whisking constantly until very thick, 2 to 3 minutes. Remove from heat; whisk in paprika, salt, pepper, and nutmeg. Add egg yolks 1 at a time, whisking to blend after each addition. Scrape soufflé base into large bowl. Cool to lukewarm. DO AHEAD: Can be made 2 hours ahead. Cover and let stand at room temperature.
Using electric mixer, beat egg whites in another large bowl until stiff but not dry. Fold 1/4 of whites into lukewarm or room temperature soufflé base to lighten. Fold in remaining whites in 2 additions while gradually sprinkling in Gruyère cheese. Transfer batter to prepared dish.
Place dish in oven and immediately reduce oven temperature to 375_F. Bake until soufflé is puffed and golden brown on top and center moves only slightly when dish is shaken gently, about 25 minutes (do not open oven door during first 20 minutes). Serve immediately.
This pairs well with a summery rosé wine. French of course ;-). Our house rosé at the moment is Domaine Couron Grenache Rosé from France, which was perfect.
Bon appétit!
http://nooncafe.com/wp-content/uploads/2015/07/NoonCafe-Logo-with-full-shadow.21.png
0
0
Laura
http://nooncafe.com/wp-content/uploads/2015/07/NoonCafe-Logo-with-full-shadow.21.png
Laura
2012-08-15 13:11:15
2015-07-19 13:40:31
Happy 100th Birthday, Julia Child ~ Cheese Soufflé