Happy New Year! To kick off the new year, I made a version of this appetizer for our New Year's Eve party. Everyone seemed to like it, so I thought I'd share the recipe here!
I've made this recipe as a more rustic crostini on sliced and toasted pieces of baguette, but I thought I'd make it a little fancier for the occasion by cutting sliced artisan bread into different shapes (and calling them canapés! Doesn't that sound fancier than crostini? 😉 ) The extra bits of bread can be popped under the broiler to make the odds and ends toasty. Perfect for dipping into a runny egg on New Year's Day morning.
Bulgogi Salmon and Scallion Ricotta Canapés
Inspired by a recipe from Korean Bapsang
Makes approximately 15 appetizers
For the bread layer:
Sliced artisan bread
Olive oil
Salt to taste
For the cheese layer:
3 scallions, finely minced
1 cup part skim ricotta
Salt to taste
For the salmon layer:
1/3 pound of salmon, skin removed (I used a beautiful piece of trimmed sushi grade salmon from my local Japanese grocery store)
1 1/2 tablespoons soy sauce
1/2 tablespoon mirin
1 teaspoon toasted sesame oil
1/2 tablespoon lemon juice
1 tablespoon granulated sugar
1 teaspoon minced garlic
1 teaspoon grated ginger
To assemble:
More scallions, curled (For a tutorial on how to make pretty curls, you can find it here.)
For the bread layer:
Preheat broiler. Line a sheet pan with parchment paper.
Cut the bread into the shapes you would like for the base of your canapés. Mine were about 1 1/2 inches long. On one side, brush the bread with olive oil and sprinkle with a little salt. Broil until toasty and just beginning to brown. Set aside.
For the cheese layer:
Mix the ricotta with scallions. Salt to taste. Place the cheese mixture into a piping bag fitted with a large round tip.
For the salmon layer:
Lower the oven temperature to 325 F. Let the high heat from the broiler dissipate.
Line a quarter sheet pan with parchment paper.
Cut the salmon into approximately 1/4-inch thick slices.
In a small bowl, mix the remaining ingredients.
Marinate the salmon for 5 minutes in the soy sauce mixture.
Remove the salmon from the marinade and lay in a single layer on the prepared sheet pan.
Cook 3-5 minutes, until warmed through. If your salmon is not sushi grade, cook a little longer until just cooked through.
To assemble:
Pipe a dollop of the ricotta mixture onto each piece of bread. Top with salmon. Garnish with curled scallions.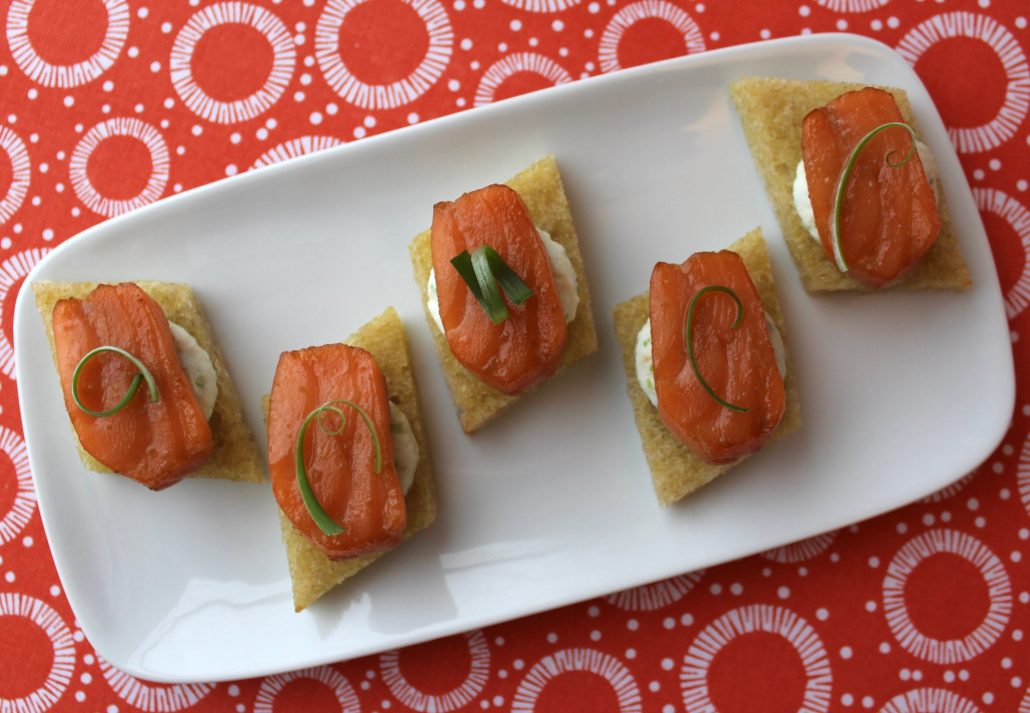 http://nooncafe.com/wp-content/uploads/2015/07/NoonCafe-Logo-with-full-shadow.21.png
0
0
Laura
http://nooncafe.com/wp-content/uploads/2015/07/NoonCafe-Logo-with-full-shadow.21.png
Laura
2019-01-02 20:47:23
2019-01-11 21:03:11
Welcome 2019 ~ Bulgogi Salmon and Scallion Ricotta Canapés