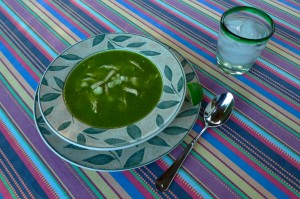 Happy Cinco de Mayo!
This year, I made a fresh and springy dish from Mexico to celebrate the day. I had this soup in a class from Sur La Table a few months ago, but I thought tonight was a perfect night to recreate it at home. It has a long history in Mexico, which makes it even more interesting to me. But mostly, it is just delicioso! 🙂 I hope you'll give it a try.
Mexican Chicken Pozole Verde
Based on a recipe from Sur La Table
Serves 6 to 8
7 cups low sodium chicken stock
2 cups water
4 chicken breast halves on the bone, with the skin
1 pound tomatillos, husked and halved
1 small onion, quartered
2 poblano chilies-cored, seeded and quartered
2 jalapenos, seeded and quartered
4 large garlic cloves, smashed
1/2 cup chopped cilantro
1 tablespoon fresh oregano leaves
Salt and freshly ground black pepper to taste
3 15-ounce cans of hominy, drained and rinsed
Finely shredded iceberg lettuce, sliced radishes, chopped onion, diced avocado, sour cream, tortilla chips and/or lime wedges, for serving
In a large and heavy stockpot, bring the chicken stock and water to a boil. Add the chicken breasts, skin side down, cover and simmer over very low heat until they are tender and cooked through to an internal temperature of 165 degrees. Transfer the chicken breasts to a plate and shred the meat; discard the bones and skin. Skim any excess fat from the cooking liquid.
In a blender, combine the halved tomatillos, quartered onion, poblanos, jalapenos, smashed garlic, chopped cilantro and oregano. Pulse until coarsely chopped, scraping down the side. With the machine on, add 1 cup of the cooking liquid and puree until smooth. Season the tomatillo puree with salt and pepper.
Preheat a large deep skillet at moderate heat. Add the tomatillo puree and cook, stirring occasionally, until the sauce turns a deep green, about 12 minutes.
Pour the green sauce into the cooking liquid in the stockpot. Add the hominy and bring to a simmer over moderate heat. Add the shredded chicken to the stew, season with salt and pepper, and cook until just heated through.
Serve the pozole in deep bowls, passing the lettuce, radishes, onion, avocado, sour cream, tortilla chips and/or lime wedges at the table.
This would pair very nicely with the Mexican Sidecar that I wrote about last year or the sparkling wine "margarita" from the year before. 🙂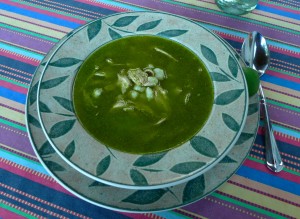 http://nooncafe.com/wp-content/uploads/2015/07/NoonCafe-Logo-with-full-shadow.21.png
0
0
Laura
http://nooncafe.com/wp-content/uploads/2015/07/NoonCafe-Logo-with-full-shadow.21.png
Laura
2013-05-05 18:59:38
2015-07-19 12:25:34
Happy Cinco de Mayo ~ Mexican Chicken Pozole Verde