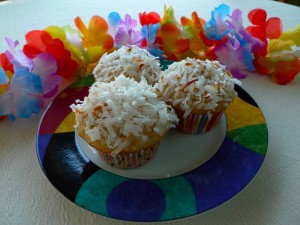 May 1st is Lei Day in Hawaii, so I thought the month of May would be a good time to bake some Hawaiian inspired coconut cupcakes! Coconut is one of my very favorite flavors, so I will take any excuse to make something with it. And Hawaii is one of my very favorite places, so I love to make anything that brings to mind that beautiful state :-).
I started with a recipe from the Barefoot Contessa, Ina Garten, for her coconut cupcakes. I changed the recipe quite a bit to make them a lot healthier, however. I omitted the butter and instead used coconut oil. I increased the amount of buttermilk to reduce the higher fat ingredients. I used 100% whole wheat pastry flour instead of all purpose flour. And I also reduced the amount of sugar.
Coconut Cupcakes
Based on a recipe from Ina Garten, the Barefoot Contessa
1/2 cup coconut oil
1 cup sugar
5 extra-large eggs at room temperature
1 1/2 teaspoons pure vanilla extract
1 1/2 teaspoons pure almond extract
3 cups whole wheat pastry flour
1 teaspoon baking powder
1/2 teaspoon baking soda
Pinch of salt
2 cups buttermilk
7 ounces sweetened, shredded coconut
Preheat the oven to 325 degrees F.
In the bowl of an electric mixer fitted with the paddle attachment, blend the coconut oil and sugar on high speed, about 5 minutes. With the mixer on low speed, add the eggs, one at a time, scraping down the bowl after each addition. Add the vanilla and almond extracts and mix well.
In a separate bowl, whisk together the flour, baking powder, baking soda, and salt. In three parts, alternately add the dry ingredients and the buttermilk to the batter, beginning and ending with the dry. Mix until just combined. Fold in the coconut.
Line a muffin pan with paper liners. Fill each liner to the top with batter. Bake for 25 to 35 minutes, until the tops are brown and a toothpick comes out clean. Allow to cool in the pan for 15 minutes. Remove to a baking rack and cool completely.
You can top the cupcakes with a glaze of confectioner's sugar and water, and a sprinkling of toasted sweetened coconut on top. Or they are good for breakfast without any topping :-).
Aloha!
http://nooncafe.com/wp-content/uploads/2015/07/NoonCafe-Logo-with-full-shadow.21.png
0
0
Laura
http://nooncafe.com/wp-content/uploads/2015/07/NoonCafe-Logo-with-full-shadow.21.png
Laura
2013-05-13 03:35:31
2015-07-19 12:24:37
May Day is Lei Day ~ Coconut Cupcakes