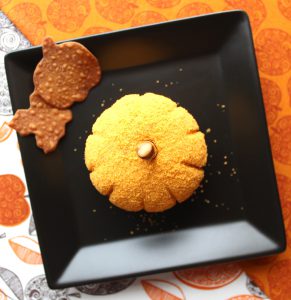 Every October I love to try a bunch of different pumpkin recipes, both savory and sweet. Since pumpkins are not only delicious but also so festive, I even love to make dishes that look like pumpkins, whether or not they have any actual pumpkin in the recipe. This pimento cheese ball is one of those recipes. It is dressed up in a pumpkin costume for the season! 😉
Pimento cheese is a Southern classic, which you can serve with crackers, crudités, or bread. For my version, I made wonton crackers in different autumn shapes. The super simple recipe for the crackers can be found here.
Pimento Cheese Pumpkins
Makes 2 small cheese balls
Approximately 2 cups cheddar cheese crackers (I used Annie's Cheddar Squares)
2 ounces extra sharp cheddar, coarsely grated
1/2 cup reduced-fat cream cheese
1 teaspoon mayonnaise
2 tablespoons jarred pimentos, drained and squeezed of excess liquid
1/4 teaspoon paprika
1/8 teaspoon garlic powder
1/8 teaspoon onion powder
Pinch of cayenne
2 2-inch long pretzel sticks.
Place the crackers in a gallon-sized zip-top bag. Smash the crackers with a rolling pin until the crumbs are fine. For an even finer crumb, process the crackers in a food processor for a couple of minutes. Set the crumbs aside in a shallow bowl.
In the bowl of a food processor, add the remaining ingredients, except for the pretzels. Process until smooth.
Cover the cheese in cling wrap and refrigerate overnight.
After the cheese is chilled, divide into 2 equal pieces. Roll the chilled cheese in your hands to make a ball. Roll the ball in the cracker crumbs until evenly coated. With the back of a butter knife, indent the sides of the ball to look like the grooves on the side of a pumpkin. Top with a pretzel to make the "stem." Repeat with the remaining piece of pimento cheese.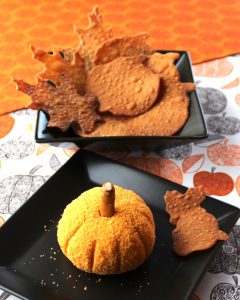 http://nooncafe.com/wp-content/uploads/2015/07/NoonCafe-Logo-with-full-shadow.21.png
0
0
Laura
http://nooncafe.com/wp-content/uploads/2015/07/NoonCafe-Logo-with-full-shadow.21.png
Laura
2017-10-15 21:19:01
2018-01-19 13:54:52
Pumpkin Season! ~ Pimento Cheese Pumpkins