At this time of the year, I love to cook with pumpkins. Sweet or savory, I love everything pumpkin. 🙂 (Almost as much as this little guy! Ha!) And right up there with pumpkin, as one of my favorite all time ingredients, is coconut. So this month I tried a new twist on pumpkin pie custard – I replaced the classic evaporated milk with coconut milk, and it worked beautifully! The texture and flavor are almost identical to the classic, but it has a very mild coconut taste, which I love! I have never been able to find an all-natural version of evaporated milk, so I feel a lot better about this recipe that is natural through and through. 🙂 You can use a natural frozen crust, but if you are like me, you just eat the custard part of the pie and leave the crust behind. Is it just me? OK, maybe I'm a little off the beaten path with this. 😉 But I would much rather have more filling than any crust! Because of that, I made these individual sized pumpkin custards. Basically they are small crustless pumpkin pies. 🙂
Pumpkin Custard
Based on a recipe from Cooking Light magazine
3/4 cup lightly packed brown sugar
1 3/4 teaspoons pumpkin pie spice
Pinch of salt
8-ounces whole coconut milk
2 large egg whites
1 large egg
15-ounces unsweetened pumpkin purée
Natural frozen pie crust (if you wish)
Whipped cream for serving
Preheat oven to 425°.
To prepare the custard, combine the first 6 ingredients in a large bowl, and whisk until well blended. Add the pumpkin, and whisk until smooth.
Pour pumpkin mixture into either a crust or 6 small ramekins. Place on a baking sheet. Bake at 425° for 10 minutes, and then reduce the oven temperature to 350°. (Keep the custard in the oven.) Bake an additional 50 minutes for a large pie, or about 15 minutes for individual ramekins, until set. Cool completely before serving.
Serve with whipped cream.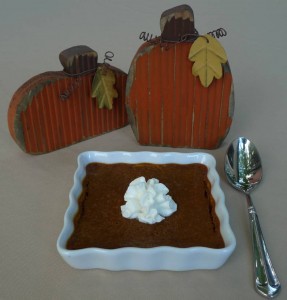 http://nooncafe.com/wp-content/uploads/2015/07/NoonCafe-Logo-with-full-shadow.21.png
0
0
Laura
http://nooncafe.com/wp-content/uploads/2015/07/NoonCafe-Logo-with-full-shadow.21.png
Laura
2014-10-26 19:57:59
2015-10-17 18:03:56
Pumpkin Season! ~ Pumpkin Custard