I've been working at two separate cooking schools this spring, which inspired me to pick up a book about a group of people who meet every week for a cooking class. It is entitled The School of Essential Ingredients by Erica Bauermeister. The way she writes about cooking and food is so descriptive that it encouraged me to stop and really take in all of the experiences at my own cooking schools…The smells, textures, colors and tastes, as well as the people, places and experiences associated with every dish.
Her website includes a few recipes to bring the experience home, so I decided to try her spring risotto to celebrate the end of the season :).
Spring Risotto
From www.EricaBauermeister.com
4 cups chicken or vegetable broth
1/2 lb asparagus
3 T butter (I actually used Earth Balance instead, which worked beautifully)
3 T olive oil
1 cup chopped onions
1 1/3 cup arborio rice
1/2 cup white wine
1 bay leaf
salt and pepper (to taste)
lemon zest (optional)
shaved parmesan
Cut asparagus tips into 1 1/2 inch pieces. Cut half of the stocks into finely chopped pieces; cut the other half into 1 inch pieces.
Heat broth in a heavy saucepan. When boiling, add asparagus and cook until just tender (3-5 minutes). Take out asparagus with a slotted spoon and set aside in a bowl. Turn down heat under broth to a low simmer.
In a different heavy saucepan, melt butter and add olive oil. Add chopped onions and saute until translucent (about 5 minutes). Add rice and bay leaf and stir until well coated with the butter. Add wine and cook, stirring, until liquid has evaporated.
Add a ladleful of heated broth to the rice, stirring until liquid is absorbed. Continue adding a ladleful at a time, until broth is gone and rice is creamy but grains are still firm.
Add the asparagus and a pinch of lemon zest (optional). Add salt and pepper to taste. Put in a serving bowl and top with Parmesan shavings.
Prep time: 45-50 minutes (with much contemplative stirring)
Serves 6
I paired it with a local wine called Barnard Griffin 2010 Chardonnay. The tulips on the label always remind me of spring :). I also used this wine in the dish.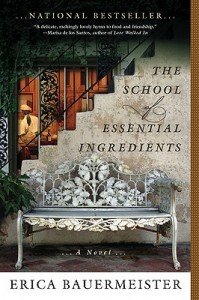 http://nooncafe.com/wp-content/uploads/2015/07/NoonCafe-Logo-with-full-shadow.21.png
0
0
Laura
http://nooncafe.com/wp-content/uploads/2015/07/NoonCafe-Logo-with-full-shadow.21.png
Laura
2012-06-19 18:31:52
2015-07-19 13:48:15
The School of Essential Ingredients ~ Spring Risotto